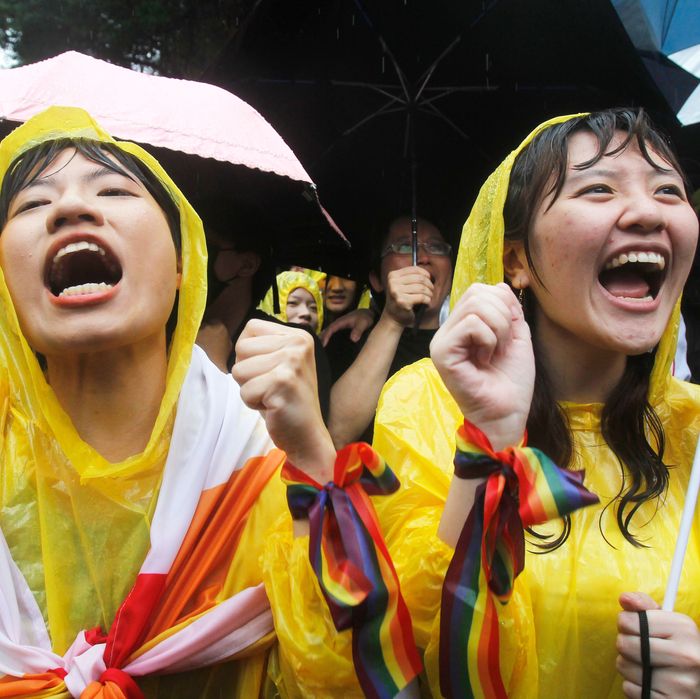 People in Taiwan celebrate the legalization of same-sex marriage.
Photo: Chiang Ying-ying/AP/REX/Shutterstock
In a historic first for Asia, Taiwan has legalized same-sex marriage, CNN reports.
On Friday, nearly two years after Taiwan's constitutional court ruled that gay couples had the legal right to marry, the island's Parliament approved Asia's first-ever same-sex marriage law. As soon as May 24, Taiwan will recognize same-sex unions — a reality that people across the island have joyfully, tearfully celebrated.
"I'm very surprised, but also very happy," Jennifer Lu, chief coordinator of the gay-rights group Marriage Equality Coalition Taiwan, told the BBC. "It's a very important moment in my life."
Taiwan's president Tsai Ing-wen — who still must sign the legislation — also celebrated the Parliament's decision, tweeting, "We took a big step towards true equality, and made Taiwan better."
Though the self-ruled island has a sizable queer community, CNN reports, the fight for equal marriage rights has not been an easy one. In 2017, Taiwan's constitutional court ruled that the existing law around marriage — that it is between a man and a woman — was unconstitutional. In response, the government held a series of referendums, one of which revealed that 67 percent of Taiwanese were against gay marriage. Ahead of the vote, Parliament had three bills to consider: one supported by LGBTQ organizations, and two conservative ones that did not feature the word "marriage." Today, just one week before lawmakers' two-year deadline to pass a law, they chose the progressive bill.
While the news has been met with widespread exuberance and relief, the queer community knows their fight for full marriage equality is not yet over. "We still need to fight for co-adoption rights, and we are not sure about foreigner and Taiwanese marriage, and also gender equality education," Lu told BBC. But she, like many others who spoke to various outlets, are optimistic about their momentum toward to full, legal equality.
"We are going to keep on fighting," she continued. "We are Taiwanese and we want this important value for our country, for our future."