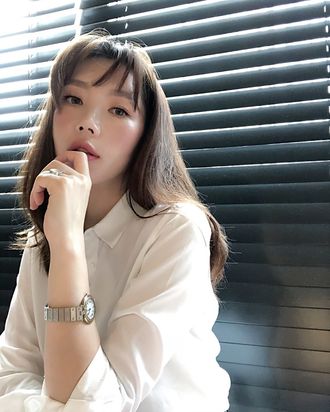 Sunyuul Yie
Photo: Courtesy of Yuul Yie
Sunyuul Yie makes shoes that fashion people really, truly love. The designer started her brand, Yuul Yie, in 2010, but in the last year it has exploded in popularity, appearing in "best shoes" roundups and street-style slideshows around the internet. (There's a bag component to the line, too.)
Yie's shoes are like little modern sculptures for your feet — just look at these ladylike kitten heels, which have a pearl instead of a stiletto point. Sometimes the art reference is more specific; witness the sandals that look like Mondrian paintings. We spoke with the Korean designer about jumpsuits, the best omakase in Seoul, and her favorite kind of pajamas.
 
What would you never wear? 
The jumpsuit (for now).
What's your dream vacation?
Iceland. Would love to see an aurora.
What's a good book on your coffee table right now? 
Chloë Sevigny.
What is a trend that you like right now?
Styling with small hair accessories such as a hairpin, a hair clip, a hair band, etc.
One you don't understand?
There's no specific trend that I'd like to follow or dislike. I usually just focus on what I like.
Favorite museum/gallery?
The Metropolitan Museum of Art in NYC.
Shoes you wear most often?
Yuul Yie's black boots, which have Lego-block heels.
What's your favorite …
Pajamas?
All white, no prints.
Scent?
I typically lean toward a musky scent.
Restaurant?
Lately, one of the most popular cuisines in Korea is omakase from Korean cattle, which you can't get anywhere else in the world. Woo Rah Man in Itaewon, Seoul, is considered the best place to get it.
Socks? 
Glitter socks.
T-shirt?
Simple and white. No prints.
Can you share some photos of yourself that define your style?
Simple yet dressy. It was Yuul Yie's SS19 presentation day, so I wanted to do a formal look.
My favorite bag is the Drum Bag from Yuul Yie. The key element of the Drum Bag is the gold metal ornament on the middle.
Shop the Story
Available in sizes 1 to 4.