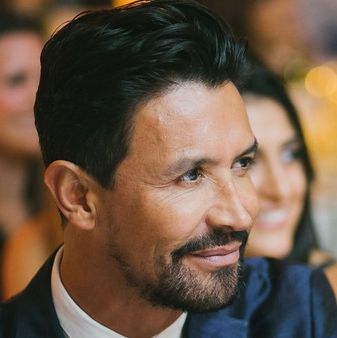 Raúl Àvila.
Photo: Courtesy of Raúl Avila.
Essential components of the Met Gala include: the exhibit, the party, and the red carpet. The exhibit is all handled by the Costume Institute, but the man who makes the party and the red carpet gorgeous even before the celebrities enter is Raúl Àvila.
Àvila has been the event designer for the Met Gala for 13 years, and even before that he worked on it with his mentor Robert Isabel. He spent months planning last night's event, but only had 12 hours to install all the flowers and décor in the Met. He also is the event designer for the Tonys, though the Met is "slightly more challenging" because of all the precious artwork around. We spoke with Àvila about his favorite Met galas, red-carpet moments, and peacocks as décor.
How do you thank someone for a gift?
I always send a thank-you note with a floral arrangement. Sometimes I'll even add a piece from my store Raúl.
What would you never wear?
I would never wear bright colors or baggy clothes.
What's your dream vacation?
Somewhere there is a gorgeous beach, where I can unplug from the world. Corsica is a perfect example — its history, combined with the mountains, buildings, and terrain, evokes a profound sense of remoteness.
What's a good book on your coffee table right now?
Blooms by Phaidon.
What's your favorite Met Gala theme since you've been designing them?
One of my favorites was "Poiret: King of Fashion." My favorite detail was an 18-foot structure with live peacocks as the centerpiece. One of them got out, but it made for an interesting night.
Favorite Met Gala red-carpet look of all time?
Rihanna's 2015 dress hand-sewn by Chinese couture designer Guo Pei for "China: Through the Looking Glass." It was absolutely breathtaking.
Last show you binge-watched?
Game of Thrones.
Secret to hosting a good party?
A good playlist and beautiful flowers, especially peonies.
What is a trend that you like right now?
The mix of street style in high-end fashion.
One you don't understand?
Appropriation.
Favorite museum/gallery?
The Metropolitan Museum of Art will always hold a special place in my heart.
Shoes you wear most often?
Boots by Bottega.
Can you share three photos of yourself that define your style?
My body is my temple, and taking care of myself mentally, physically and emotionally is a daily routine that defines me.
Being at the beach with Lucas is one of my favorite things. He is my piece of tranquility in my insane world.
The simplicity of Richard Serra's work certainly defines my taste. Strong and powerful, yet simple and defiant.
Can you take a photo of your favorite space in your studio/office/home? And a brief explanation of why it's your favorite?
My store is my favorite place in NYC. It is a place I dreamed about for so many years, and now it's an amazing reality. It is an expression of me.
What your favorite…
Pajamas?
My Yves Saint Laurent cologne.
Candle?
Le Labo.
Scent?
Leather.
Restaurant?
Indochine.
T-shirt?
Fruit of the Loom.
Florist?
Raúl.
Shop the Story
If you buy something through our links, New York may earn an affiliate commission.