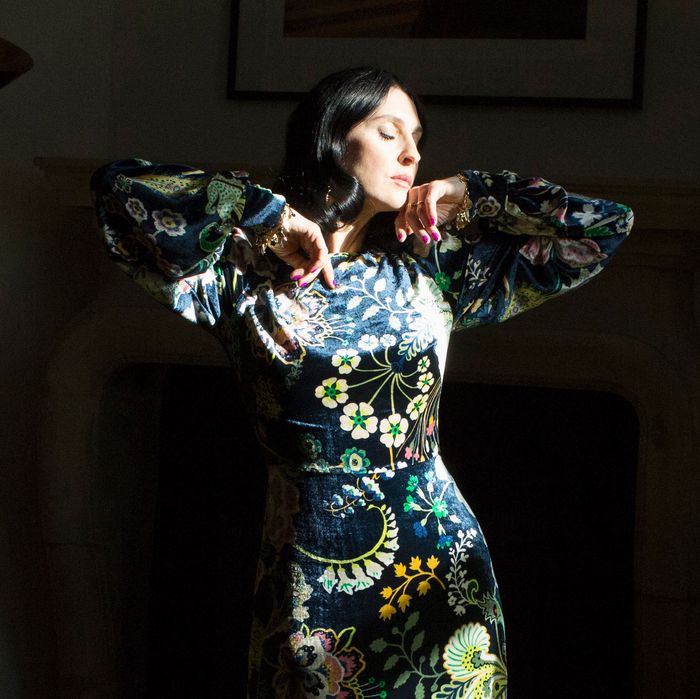 Susie Cave.
Photo: Lauren Joy Fleishman
If long, floral dresses with puffed sleeves and ruffled hems seem inherently cloying to you, Susie Cave is asking you to reconsider. Cave's label The Vampire's Wife mostly sells clothes that seem similar to the prairie dress trend, but with a Morticia Addams bent (its spooky new installation at the Dover Street Market in L.A. is a prime example of its aesthetic). The name is a reference to her husband, Australian musician Nick Cave, a.k.a. the Prince of Darkness. We spoke with the vampire's wife herself about sending thank-you notes "by post," never having parties, and working in an office in a medieval town.
How do you thank someone for a gift?
The giving of a gift can be an extraordinary act of kindness and love. I like to acknowledge that kindness. There is an art to giving but an art to receiving as well. I tend to write a thank you note by hand and send it by post. Very old-school, I'm afraid.
What would you never wear?
Ankle boots! My husband, for some reason I will never understand, has a bizarre aversion to them. He banned them.
What's your dream vacation?
We are constantly traveling these days. Any chance we get to spend time in our actual home is a real pleasure. We tend to hide away.
What's a good book on your coffee table right now?
I don't have a coffee table but I do have a large pile of books on the floor. The one on the top of the pile is Krishna Art of Transcendence with the most beautiful, playful paintings in it. The Krishna books have long been a source of inspiration.
Last show you binge-watched?
The Italian TV series by author Niccolò Ammaniti called The Miracle. It is simply the best TV I have seen in years. It may not be released in the States just yet, but it is coming. It is quite literally miraculous.
Secret to hosting a good party?
A party?! We don't have parties. We are vampires, don't you know?
What is a trend that you like right now?
As the world becomes more complicated and agitated, I have noticed a trend, at least among the people I know, to return to a more minimal way of living, to reduce everything to its essential nature. Perhaps this is just part of the natural order of things and I am just getting older, but I find I need less and less and there is pleasure in the simplicity of things.
One you don't understand?
Many of the current trends feel extremely divisive and tribal. These, I don't understand.
Favorite museum/gallery?
The Art Brut Museum in Lausanne, the Museo deli Innocenti in Florence, and while I'm there I drop into the Farmaceutica di Santa Maria Novella Museo.
Shoes you wear most often?
I have a terrible shoe problem. It has become a full-blown addiction. I hide them around the house. I don't even wear them. Just watch them. Touch them.
What's your favorite…
Pajamas?
Olivia Von Halle pajamas in the day and an eye mask at night.
Candle?
Abd El Kader by Cire Trudon in a glass bell jar.
Scent?
Rose water.
Restaurant?
Chateau Marmont.
Socks?
I steal my husband's socks from his vast collection. He is the Imelda Marcos of socks.
T-shirt?
The Vampire's Wife "Girl" T-shirts of course!
Can you share three photos of yourself that define your style? And a brief explanation of why?
This photo I am wearing my very first Vampire's Wife dress. It was taken by Nick at a hotel in Palm Springs in 2013, the night after his concert at Coachella with the Bad Seeds. It feels like I am stepping into an idea that I had no notion existed at the time.
This photo is taken at my home by Dominique Issermann. I love this dress and we have a collection of minidresses coming soon.
This photo is taken by Polly Borland.  We based it on Grant Wood's wonderful painting, "American Gothic." I love the vintage dress with the pleated skirt and the black butterflies. Very Vampire's Wife.
What is your favorite place in your office/studio?
I have an office in the medieval town of Lewes, England. It over looks an ancient river. The best part of my office is it has a lock on the door and a Napoleonic camp bed in the corner. This is the place I design. I lie down and dream. I am surrounded by notepads and crayons. The dream space in my head is my office. It is both the easiest and hardest work I have ever done.
Shop the Story
Available in sizes UK 6–UK 16.
If you buy something through our links, New York may earn an affiliate commission.