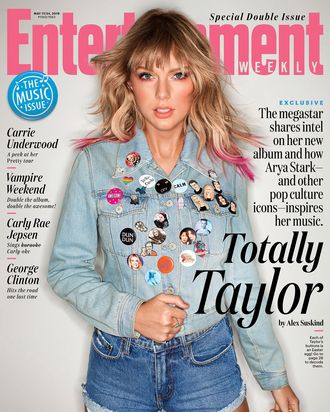 Photo: Entertainment Weekly
Do you consider yourself a discerning arbiter of cultural taste? Are you the kind of person who friends go to for recommendations, because of your refined intellectual and artistic sensibilities? Have you at any point in time told someone they simply must pick up the new Sally Rooney book and they just have to watch the new seasons of Killing Eve and Fleabag, and also have they listened to the new King Princess album, because it's to die for?
My sincerest apologies: you (and ME!) might be … basic?
In a new interview with Entertainment Weekly, pop's resident chameleon Taylor Swift shared a list of her current influences, replacing "not having a political opinion" and "snakes" with … pretty much all the cultural artifacts that all self-respecting "artsy" Brooklyn millennials have been frothing over for the past year. (This also makes her the second celebrity to effusively recommend Conversations With Friends in the past month, after "rec queen" Lena Dunham passed the book to Emily Ratajkowski.)
What's next? Taylor Swift writing a song about how big Adam Driver is? Taylor Swift adopting a Mandarin Duck? Taylor Swift saying Jorah was her favorite Game of Thrones character?
Time to set yourself apart by reinventing your personality around a set of even more esoteric tastes — at least, until Taylor Swift's next album cycle.