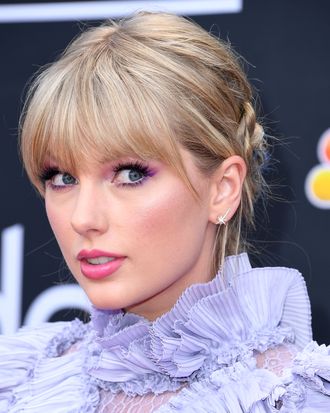 Photo: Steve Granitz/WireImage
Taylor Swift is turning 30 in December and subject to some version of what any woman in this misogynist and youth-obsessed society has to endure when they depart their twenties.
Entertainment Tonight reported on Friday that Swift was asked in a recent interview with Deutsche Press-Agentur if she viewed tuning 30 as a "turning point" and if she's ready to settle down and have a kid. Presumably with her boyfriend of more than two years, Joe Alwyn, whose hand she recently held.
Swift responded, "I really do not think men are asked that question when they turn 30. So I'm not going to answer that question now."
But then she did sort of at least entertain the question, according to the translated interview text, telling her interlocutor, "I hear others say that one in his thirties no longer has as much stress and anxiety in life as in my twenties. And I can join in the observation that we are in our twenties looking to gain experience, try things out, fail, make mistakes."
If you're interested in Swift's unprompted thoughts on turning 30, these are well documented. Swift wrote a list of "30 Things I Learned Before Turning 30" for Elle in March that includes a few hot tips, like taking the natural supplement L-theanine "to help with stress and anxiety" and learning how to cook Ina Garten's spaghetti and meatball recipe.
Swift even directly addressed the subject of aging. "I've learned that society is constantly sending very loud messages to women that exhibiting the physical signs of aging is the worst thing that can happen to us," wrote Swift. "These messages tell women that we aren't allowed to age. It's an impossible standard to meet."