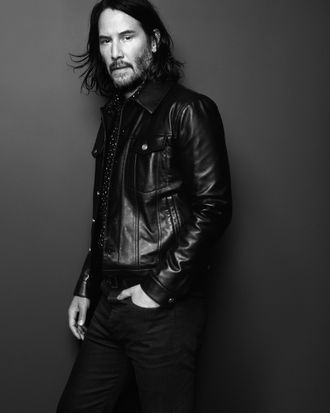 Keanu Reeves.
Photo: David Sims
"Here's my Mother's Day gift early," one commenter wrote.
Another wrote: "This man is like wine … the older the better."
The response to a single photo of Keanu Reeves posted to the New York Magazine Instagram account elicited hundreds of extremely horny responses. The photo was one from the Saint Laurent fall 2019 fashion campaign, where he's encased in well-fitting black clothing, his hands stuck in his pockets.
We knew, of course, about the power of Keanu. It's why we compiled 50 photos of him, so that we could go back and blissfully scroll through the collection on rainy days when we're feeling sad or anxious about climate change. But whatever response we imagined these photos could conjure, our lust-filled Instagram followers far surpassed it.
"Saving this post, because of reasons," another person wrote. It's likely that the reasons are not wholesome. "This man. He never stops being impossible not to look at," someone else commented.
Some Instagrammers were especially moved: "He seems like the nicest person in the world. Every time I read something about him I think, 'Wow, the people who know him are so lucky.'" That's probably true. Others had an even stronger, more visceral reaction. "I literally said 'oh god' out loud when I saw this picture," one user wrote. "Show me a hotter man! I dare you!!!"
We might not be able to … but have you guys our expansive collection of Bruce Springsteen photos?