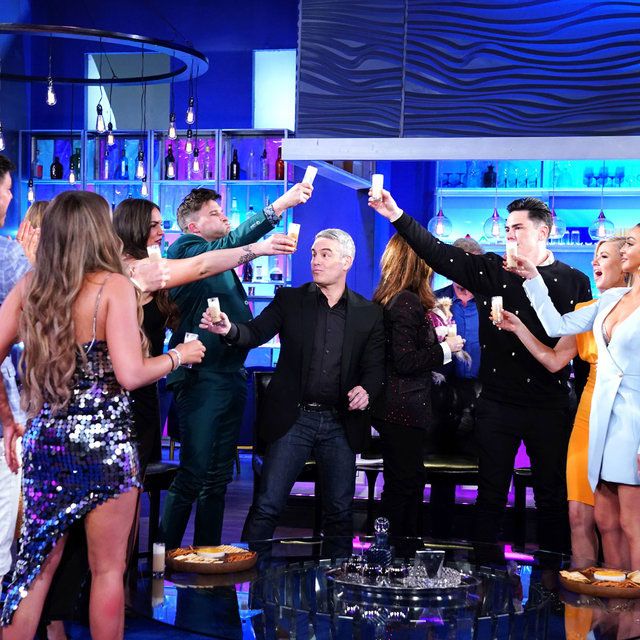 Vanderpump Rules is one of the best reality-television series ever filmed. It is masterful. It has provided a generation with joy and horror and Laura Leigh and laughter and sadness and the scene where Brittany plays audio of Jax having sex with Faith to an entire housewarming party. The meaninglessness of entertainment-industry awards is highlighted by the fact that it has zero to its name. For seven seasons, it has fed us. And now it is time for Vanderpump Rules to die.
I know. I hate it, too.
When Vanderpump Rules began in 2013, as a Real Housewives of Beverly Hills spinoff, the core cast — Stassi, Jax, Katie, Kristen, and Tom Sandoval — worked together at SUR. Scheana did, too, though she was new to the friend group (helicoptered in from a Real Housewives controversy) and has always been somewhat on the outskirts. Tom Schwartz was also there, though he never had a job save for the half-day he bartended a party at Pump before he got overwhelmed.
It was a show about the beautiful and fame-hungry, and the drama was largely trivial. Scheana put sunscreen on Jax. Jax "had relations" with someone in Las Vegas. Stassi had to mend her broken friendship with Katie. Kristen … something something. When there were obvious problems — Stassi's text-message bullying, Katie's issues with alcohol, Jax's everything — the viewer was at least able to keep in her mind that perhaps the cast member would grow out of it. (Most of the cast was in their 20s when the show began.) We were watching young people perform the drama of their lives for cameras, and they were so good at it — so vibrant and alive and funny and dumb, but cunning enough to be captivating — that the rubbernecking guilt, to whatever extent it was there, was worth it.
The show has changed, though, naturally. Life gets sadder as one gets older. It gets happier, too. Neither of these developments particularly works in Vanderpump Rules' favor.
The most recent season was plainly somber; a mood that had been creeping in for a season or two but wasn't particularly distracting until now. Jax and Lala attempted to deal with their fathers' deaths, while Lisa Vanderpump attempted to deal with her brother's suicide. James Kennedy seemed to be struggling with real emotional and substance-based issues while financially supporting his broken family. The drama sources that were once entertaining, like Stassi's drunken freak-outs, came off darker and were clearly indicative of problems more difficult to overcome than youth. The tumultuous relationships we watched in delighted horror were now legally bound, or on their way to becoming it. At least for me, the rubbernecking felt off.
The past two seasons have shown the cast becoming more established, too. Shifts shown at SUR now are obviously a ruse; the cast — some of whom, during the first two seasons, made about $1,400 per episode — makes good money from the show (reportedly about $15,000 per episode for most of them, though Jax makes more) and from hawking stuff on Instagram and selling various Vanderpump-adjacent products. They've moved away from the apartments in which they couldn't run the air conditioning and microwave at the same time and into multimillion-dollar homes. The tabloids have picked them up as stars, and having this constant look into their lives outside of the show has altered the suspension of disbelief necessary to buy into much of the on-show drama.
(The exception to that is, of course, the on-show drama having to do with James; this is still, regrettably, believable. James is a character I just can't watch anymore. He is too broken. He is too mean. He is too sad. And, embarrassingly, I have too much empathy for him. I want him to be okay, and I'm worried he isn't going to be okay.)
In the most recent reunion episodes, it was clear the cast — older, established, settled — was tired of treading the youthful waters that gained them notoriety. This was particularly obvious when conversation would turn to James's even darker brand of early Jax-style behavior, or Kristen's even sadder brand of Stassi's early relationship woes. There was a palpable feeling, sometimes spoken aloud: We're past this.
But does Vanderpump Rules have a life past that brand of drama? Against this season's backdrop of tragedy, the obvious attempts at classic, memorable Vanderpump Rules moments felt odd. The briefcase full of money, the puppy party. Maybe these things would have felt truer in the past, but the obvious staging was awkward. Why are we doing this?
It was obvious from the moment Lisa Vanderpump proposed naming her latest West Hollywood venture after Tom and Tom, at Schwartz and Katie's wedding in season five, that the bar might one day serve as the setting for a spinoff. I think we all know that this spinoff would not be very good. Tom and Tom can't carry a show, and the addition of Ariana, Katie, and Lisa would do little to remedy it. They are, generally speaking, the foil cast members. They are there to react. And Tom and Tom by themselves won't give them enough to react to — not for a whole show. We have nothing to lose by being honest about this fact.
I'm willing to propose another spinoff idea, however: The Non-Housewives of Vanderpump Rules. A Housewives-to-spinoff-to-Housewives reality-television arc — the world has never seen it … until now. We can focus on Stassi, Lala, Katie, Brittany, and Ariana. And Kristen. If we must exploit the lives of these people for our entertainment ad infinitum, I'd rather focus on the women; they are (in general) less sad to watch, because they are smarter and seem to have a clearer view of what they want from life. I predict the show would last for three seasons.
But the way I see it, we have come to each core cast member's natural end point for the series that is Vanderpump Rules. Jax, now "reformed," is getting married. Stassi is a New York Times best-selling author and is in, finally, a happy relationship. Tom Sandoval opened his own bar, and Tom Schwartz has a job there where he does nothing. Katie got Schwartz to marry her and stopped drinking so much tequila. They all own beautiful homes in the same area of Hollywood, and Kristen owns a home, too, near them. Scheana's separation from the rest of the main cast is now reflected in her physical location, which is Marina Del Rey. As far as finales go, you can't ask for much more than that.
But, of course, Vanderpump Rules has not ended. And, of course, I will not stop watching it until it does.