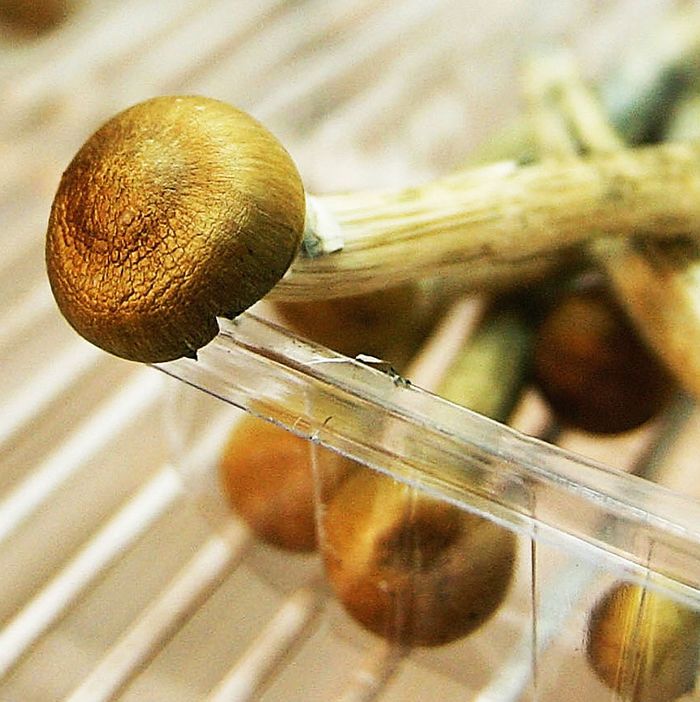 Magic mushrooms.
Photo: Daniel Berehulak/Getty Images
In early May, Denver narrowly passed the first-ever ballot measure of its kind: the decriminalization of mushrooms containing the hallucinogenic compound psilocybin, better known as "magic mushrooms."
Though Denver is at the forefront of the growing movement to decriminalize these psychedelic mushrooms, it's not the first city or state to introduce a campaign of this sort — and, with the success of the recent ballot measure, it won't be the last. In fact, Oakland could soon follow suit. But what exactly is the argument behind decriminalization? And how does this fight compare to the one to legalize medical marijuana? Below, here's everything to know about the national movement.
How did the fight to decriminalize them start?
While Denver is leading the current decrim movement, mainly for medical reasons, the city didn't start it. Last year, California had a campaign to decriminalize psilocybin, but it did not receive enough signatures to make it onto the ballot. (Per NPR, the group that led the campaign will try again in 2020.) There are also a handful of ongoing campaigns: In Iowa, Republican lawmaker Jeff Shipley recently proposed two bills to legalize the medical use of psilocybin and remove it from the state's list of controlled substances, and Oregon is currently gathering signatures to get a ballot measure legalizing medical use (under supervision) in the 2020 election.
Under Denver's initiative, magic mushrooms aren't legal; instead, the city will no longer put resources toward prosecuting those over 21 who possess, use, or grow them. How exactly this law will be implemented, though, it yet unclear — that's up to law enforcement and city offices to soon discuss and decide.
What are the medical benefits of psilocybin use?
Since 1970, psilocybin has been listed in the most heavily criminalized category of drugs that are considered to have zero medical use — a categorization that many medical experts have pushed back against. In an October 2018 report published in the journal Neuropharmacology, researchers from Johns Hopkins University suggested that psilocybin be reclassified for medical use, as studies have shown that even just one dose of the compound can help patients who suffer from resistant forms of depression.
"It's really unprecedented in medical history to see effects for depression that are caused by a single medication," Matthew Johnson, who has studied psychedelics at Johns Hopkins University for more than a decade, told NPR. (Other studies suggest that it could also help those struggling to overcome nicotine addiction.)
Despite the numerous studies into its potential medical benefits, many experts have concerns over people taking psilocybin outside of clinical settings. "The most common side effect is the so-called 'bad trip,'" Johnson told NPR, which he says can be"well-managed in a medical research setting," but not so much in non-clinical settings. (Again, as of now, Denver does not yet have an explicit plan to regulate consumption.)
People use them recreationally, right?
Yes. Just like with LSD, ecstasy, and other hallucinogens, people use magic mushrooms — which are not considered to be addictive — recreationally, but not many. Per the Drug Policy Alliance, between 2002 and 2014, approximately 0.1 percent of people who partook in a survey about psychedelic-drug use admitted to having taken any type of hallucinogenic in the previous 30 days.
How does the current decrim fight compare to the one over medical marijuana?
While many are quick to liken the fight to decriminalize magic mushrooms to the one over medical marijuana, Sam Kamin, a professor of marijuana law and policy at the University of Denver, told Vice that there aren't too many parallels.
"There were not a lot of psilocybin arrests in Denver prior to this," Kamin told Vice. "And I think, in that way, it is different from marijuana. People are still getting arrested for marijuana, and while there are very few people doing jail time for simple possession, it is something police can use to harass, or go through someone's pockets. That just hasn't really been true with psilocybin."
Should we expect decriminalization?
While the fight is relatively new, Johnson thinks medical psilocybin will be approved by the Federal Drug Administration in as few as five years, he told NPR. And, just last year, the FDA granted the U.K.-based Compass Pathways a "breakthrough therapy designation" for the studies into psilocybin, which researchers celebrated as a milestone, Rolling Stone reports.
However, once psilocybin is decriminalized, the work of the groups behind the initiatives is far from over. Following Denver's vote, Decriminalize Denver field coordinator Travis Tyler Fluck told Rolling Stone that not much had changed, "other than the feeling of being one step closer to true freedom. We have to start doing education, outreach, and harm reduction very quickly."