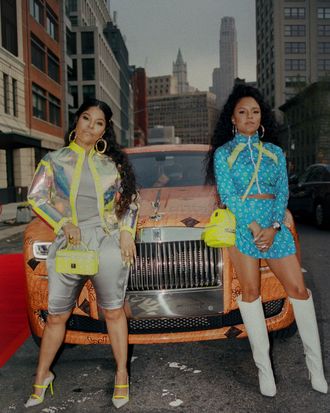 Misa Hylton Brim, Madison Star Brim
Photo: Courtney Sofiah Yates
Last Thursday at the Tribeca Film Festival, the luxury lifestyle brand MCM debuted a documentary called The Remix: Hip-Hop x Fashion. The film shines a light on the innovators of hip-hop fashion, especially the women of color. Those people include Mary J. Blige; the trailblazing streetwear designer April Walker, who is the mastermind behind the Walker Wear brand; Dapper Dan, the luxury reconstructive fashion designer; Kerby Jean-Raymond, founder of the menswear label Pyer Moss; Nikki Ogunnaike, style director of Elle magazine; and the TV and radio personality Bevy Smith.
"After watching the film, I think the audience will be surprised about how many styles and trends they recognize but have not connected with specific women," Dirk Schonberger, MCM's global creative officer, told the Cut at the premiere.
One such woman is Misa Hylton, a stylist who started her career in the '90s whose designs are still copied today; she's now MCM's new global creative partner. Hylton created the color-saturated looks for Lil' Kim's 1996 "Crush on You" music video and her purple-pasty outfit from the 1999 VMAs. She's also behind Beyoncé's customized MCM bodysuit in the "Apesh*t" video, which came out last year. Like that of other hidden figures of hip-hop fashion, Misa's work has been spotlighted on '90s-inspired IG accounts like @theyeehawagenda, @blackgirlsincowboyhats, @v.ri0t, and @90smilk.
"We rocked so many Yeehaw looks in the 1990s!" she told the Cut. "In 1999, I worked on the video for Mary J. Blige's "All That I Can Say", from her album Mary, and Noble Jones, the director, trusted me to come up with the kind of looks that had a modern-day urban glamour that he wanted to set against New York City backdrops." Hylton styled Blige in a ruby-red feathered cowboy hat and matching mink halter top paired with jeans trimmed down the sides in red mink, made by the late legendary furrier Nija Battle. "That was very luxe urban cowgirl."
Hylton added that hip-hop fashion has evolved significantly over the years. "It's a global phenomenon. You see it everywhere, every day, all day," she said. "This film gives unsung heroes a chance to share their stories, journey, and contributions."
See images from the premiere by photographer Courtney Sofiah Yates below.