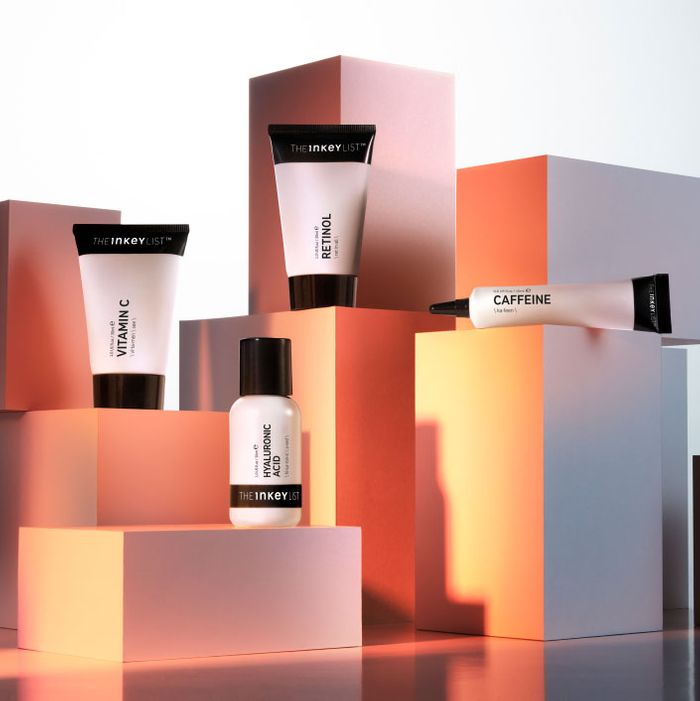 Photo: Courtesy of the Inkey List
Despite all the drama, Deciem is still intact, and its most affordable line, The Ordinary, is still at Sephora. It's currently taking up a full page of real estate with its clean-cut packaging and low price points that bring a single, cinematic tear destined to slowly roll down your cheek, to your eye.
This month however, it will have some competition from a new kid on the block: THE INKEY LIST (all caps). The Inkey List is a skin-care line that is just as straightforward, just as affordable (the entire line is under $15), dressed in a similarly minimalistic manner, and also happens to be British, which apparently makes it appear more educated, intelligent, competent, and physically attractive.
Founded by two former members of Boots' branding and product development teams, the brand wants to be "Your beauty translator," by cutting through all the "beauty jargon" and "exaggerated beauty marketing." It's doing so via 16 hero products like hyaluronic acid, retinol, salicylic acid cleanser, and vitamin C cream. No gimmicky, punny names here, just capitalization — the hyaluronic acid serum is literally called Hyaluronic Acid Serum. Even the three products in the brand's "innovation line," — Polyglutamic Acid, Multi-Biotic Moisturizer, and Hepta Peptide Serum — are nice and science-y.
The Inkey List likes to think of itself as helpful, "'give it a go' skin care," which is one of the most British things I've ever heard, and means it's designed to easily integrate into your preexisting skin-care routine. If the products look "fun sized" compared to other products in said routine, it's because you've been lied to all this time. All Inkey products are full size, they just look small because Inkey did us all the favor of "cutting out pricey, double walled bottles so you don't have to spend your money on that, rather than the ingredients inside!"
Thankfully, there's still enough space on every product for a handy phonetic spelling of each product name, which is not only educational, but means I you can stop re-watching this commercial to remember how to correctly pronounce "hyaluronic acid" in public. The Inkey List truly is here to help.
Photo: Courtesy of the Inkey List
Photo: Courtesy of the Inkey List
Photo: Courtesy of the Inkey List
 If you buy something through our links, New York may earn an affiliate commission.