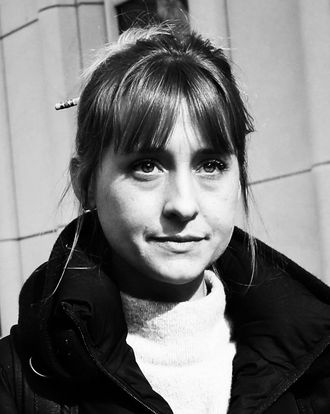 Allison Mack.
Photo: Spencer Platt/Getty Images
NXIVM, an organization that allegedly brainwashed and blackmailed women into being "sex slaves," has crumbled in the past year. In March 2018, its founder, Keith Raniere, was arrested and charged with sex trafficking for his role in the group, which then set off a domino effect: In the ensuing months, federal prosecutors would go on to charge more and more people for their alleged involvement, some of whom have now begun to plead guilty. The picture painted of NXIVM in media reports is disturbing, to say the least: that the purported "self-help organization" was instead a front for a sex cult that branded numerous female members with Raniere's initials and coerced them into "master-slave" relationships.
The past few months have seen the emergence of some truly abhorrent details pertaining to the case, relating to everything from enslavement to child pornography. The five women who were Raniere's co-defendants have pleaded guilty to various charges over the past few weeks; as part of their plea deal, they all may be called to testify against him. On Tuesday, May 7, Raniere's long-awaited trial started.
"He claimed to be a leader, but he was a conman," Assistant U.S. Attorney Tanya Hajjar told the jury. "He claimed to be a mentor, but he just exploited it… NXIVM was a crime organization and Keith Raniere was a crime boss."
Here's everything we know so far.
Co-founder Nancy Salzman admitted in court that she tracked and monitored women within NXIVM.
Nancy Salzman, who was the first person involved in the case to plead guilty to her single charge of racketeering conspiracy, tearfully confessed in court on March 13 that she tracked and monitored the usernames and passwords of suspected moles in the group to ensure they weren't leaking details about the group's inner workings. She also admitted that she ordered others to "destroy video tapes" that documented Raniere's "teachings."
"I want you to know I am pleading guilty because I am, in fact, guilty," she said through sobs. "I accept that some of the things I did were not just wrong, but sometimes criminal."
Prosecutors believe that founder Keith Raniere had sex with a 15-year-old girl, who later became his first "slave."
At a Brooklyn courthouse on March 14, Raniere — who was already facing forced labor, wire fraud conspiracy, human trafficking, and sex trafficking charges — was hit with additional charges of child pornography. According to prosecutors, Raniere documented himself engaging in sexual conduct with a 15-year-old girl, who would go on to become his first "slave." While these charge were thrown out in early April, on May 7, prosecutors announced that they intend to show explicit photos of the girl in Raniere's bed during the trial. Prosecutors also accused Raniere of having had a sexual relationship with at least one other child, and of possessing child pornography between 2005 and 2018.
And, per court papers, the New York Post reports that multiple people testified that Raniere had a den in Salzman's house in upstate New York, where he had sex with some of his "slaves" in an oddly-arranged room. "The bed was elevated, and a hot tub was underneath the bed," former NXIVM member Mark Vicente testified, per the documents.
Nancy Salzman's daughter Lauren admitted to keeping a woman as a slave.
On April 2, Lauren Salzman pleaded guilty to one count of racketeering conspiracy, revealing that she had "knowingly and intentionally harbored" an unnamed woman in a locked room from March 2010 to April 2012; when the woman "did not complete [requested] labor," Salzman confessed that she threatened to deport her back to Mexico. (Per prosecutors, a Mexican woman named Daniela – whose story lines up with that of the unnamed woman – is scheduled to testify during Raniere's trial. As of May 7, though, news outlets have not confirmed whether the two women are in fact the same.)
Salzman also admitted to being a member of DOS, the internal sorority within NXIVM which prosecutors say was a "master-slave" sex ring. (The group also allegedly branded women with Raniere's initials.)
Actress Allison Mack "took full responsibility" for her involvement in NXIVM, and notably DOS.
The highest-profile person involved in the case, Smallville actress Allison Mack, pleaded guilty on April 8 to one count of racketeering conspiracy and one count of racketeering. "I have come to the conclusion that I must take full responsibility for my conduct, and that's why I am pleading guilty today," she said through tears. She went on to admit that she was a member of DOS, and said she had attempted to recruit other women into the group. She also said that she coerced women into giving her embarrassing information and photographs, known within the group as "collateral," in order to blackmail them into going along with NXIVM and Raniere's demands.
"I'm very sorry for the victims of this case," she said in court. "I'm very sorry for who I've hurt through my misguided adherence to Keith Raniere's teachings."
Seagram heiress Clare Bronfman admitted to harboring an undocumented individual and helping Raniere use a deceased woman's credit card.
On April 19, Claire Bronfman pleaded guilty to conspiracy to conceal and harbor an illegal alien for financial gain, as well as fraudulent use of identification, the Guardian reports. (According to prosecutors, Bronfman used her immense wealth to bankroll NXIVM's activities.)
"I am truly remorseful," she said in court. "I endeavored to do good in the world and help people. However, I have made mistakes."
And it's likely we'll hear from some of the five women.
Things don't look so great for Raniere, who is pleading not guilty. Per the Albany Times-Union, Mack and both Salzmans have all signed cooperation agreements against Raniere, meaning there's a decent chance they'll be called to the stand to testify against him; and Kristen Keeffe, the mother of Raniere's child, might testify as well. As Frank Parlato, a former NXIVM member whose dogged independent reporting on the organization helped bring its alleged criminal activity to light, told Rolling Stone, the likelihood of Raniere's defense working is "very small."