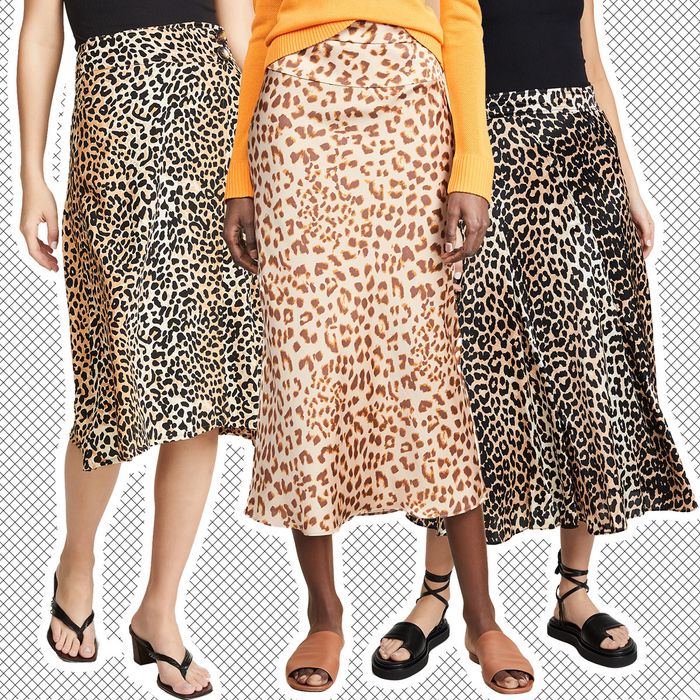 Photo: Courtesy of the vendors
To paraphrase John Green on falling in love — and Hemingway on going bankrupt — I realized that the leopard-print midi skirt would be the trend of the summer the way you fall asleep: slowly, and then all at once. There were a few months of seeing the slinky skirt on the subway, at brunch, on Instagram. Then, the instagram account @leopardmidiskirt appeared, and the floodgates opened. Photos and screengrabs of women wearing the same skirt poured in, almost always with a pair of sneakers and a T-shirt. It was a style phenomenon on a scale that hadn't been seen since the denim Zara dress of summer 2017, or the fleece vests of Wall Street, or the blue gingham shirt of … well, every day since millennial men discovered J.Crew.
Patient Zero is a French brand called Réalisation Par, known for patterned, inoffensive wrap dresses and slips. When you go to google "Réalisation Par skirt," the second thing that comes up is "Réalisation Par skirt dupe" — which suggests that people generally know which brand popularized the look, even if they don't want to pay for it. (The same thing happened with Jesse Kamm's wide-legged "ugly pants.") Last summer, Harper's Bazaar UK ran a story titled "This Réalisation Par skirt is the affordable hit of the summer," but back then it was more of an influencer thing. Now, it's hit the streets, and the fast-fashion stores. You can get a facsimile at Free People, Ganni, Mango, ASOS, and obviously Zara.
And with proliferation comes documentation. Rilka Noel, a 23-year-old who works at Kith, started @leopardmidiskirt on May 22. She began by sending Snapchats of girls in the skirt to her close group of friends, and then decided to make it an Instagram.
"Everyone loves to drag other people and themselves," she told the Cut. "It's just good fun. Also, I think it's picking up because there's no one easier to make fun of than basic bitches. And I'm saying that in the nicest way possible. I'm living for everyone in their leopard print midi skirts." She also said she doesn't have the skirt herself. "I never will," she said. "But I'm basic in my own way."
As ubiquitous trends go, it's not a bad one. Unlike the off-the-shoulder look, it doesn't require a special bra. Leopard is certainly more fun than chambray. Silk is a nice, light fabric for braving the humidity. And it's hard to fault anyone for jumping on a bandwagon that lets you wear sneakers. As Noel says, aren't we all a little bit basic?
You could posit reasons why people have shifted from minidresses to midi skirts or try to determine the cultural implications of entering horny season while dressing like a predatory cat. But it probably comes down to this: We're all just trying to look cute, without putting in any effort. And an eye-catching skirt will do that, even if everyone has the same one.