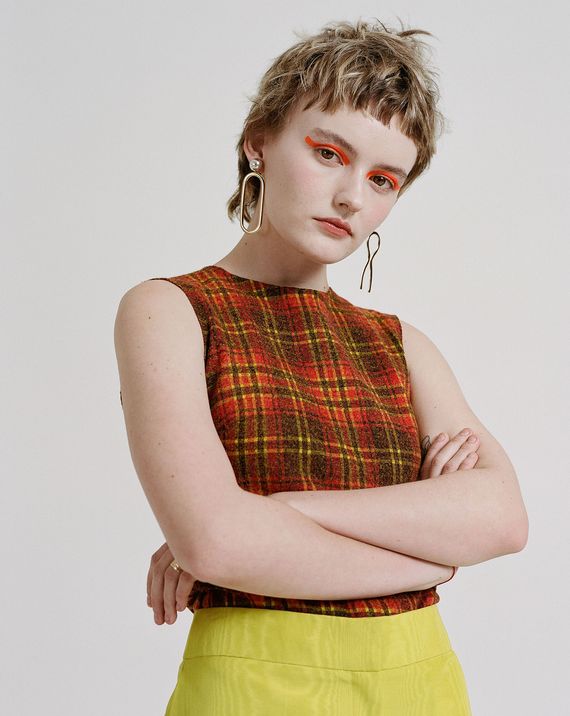 Natasha Bock arrived in New York to be a stylist's assistant after an attempt to have a "really average college experience." It didn't suit her: "Within one semester I dipped." Instead, she's made a life in New York as a stylist/model. Her personal style blends eccentric, backward-looking femininity with of-the-moment bright hair colors and eye makeup. Her portfolio is dreamy, ethereal, and romantic. But no matter the medium, she knows how to put things together in a way that's appealingly weird. We spoke with her about Gaga, cowboys, and only watching animated shows.
What is your most used emoji?
The smiling cowboy. I love him. He's so cute.
What's your favorite holiday?
Halloween. I love dressing up.
If you could spend three months anywhere, where would it be?
Japan. I was just looking to see when the best time is to go. I went there for three weeks and shopped for 12 hours a day.
If you could have a superpower, what would it be?
Manipulating time. I'm late to everything.
What's the best album ever made?
Doris by Earl Sweatshirt or Goblin by Tyler the Creator.
What's your go-to karaoke song?
Anything Lady Gaga. She was one of the people who got me into fashion, actually. Like, "Bad Romance"? So good.
Who do you think is cool?
My mom. She's hip.
Who is a fictional character you'd want to hang out with?
Steve or Francine from American Dad.
If you were a magazine, what magazine would you be?
Caught between i-D and Hallmark.
If you could talk to animals, which animals would you want to talk to?
Dogs, hands down. I have three.
Jeans or sweats?
Jeans.
What is something your social-media followers don't know about you?
I have a hard time watching anything that isn't animated because I get way too emotionally connected to the characters. If anything bad happens to them, I get anxious and can't watch it.
What was the last website you looked at?
I was looking up the weather in Japan.
If you could be outfitted by one designer for the rest of your life, who would it be?
The Vivienne Westwood archive.
What do you eat for breakfast?
Coffee. I recently tried oat milk, so I'm trying to get on that train.
If you could eat only three things for the rest of your life, what would it be?
Fried chicken, cereal, and french fries.
If you were a color, what color would you be?
Chartreuse.
Natasha is wearing Oscar de la Renta trousers, her own top, and Alta Ora earrings.