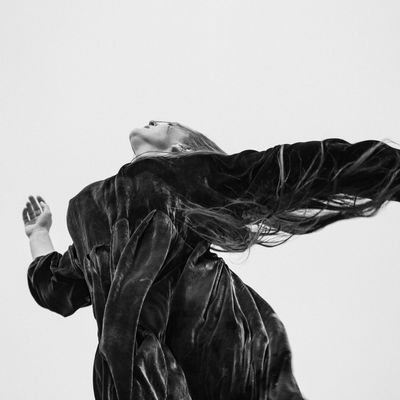 Photo: Matthew Placek at Certain Bird, VT
"It's funny how we're taught everything comes from the edges in instead of the inside out," dancer-choreographer Bobbi Jene Smith told me over lunch. She was explaining what distinguishes the best dancers: a fluid pelvis, not how high one can reach their pointed toes; but the poetry of her statement feels wise enough to be applied as a sort of life philosophy. And how to live authentically feels very much at the heart of Smith's work, a practice of remorseless interrogation instrumentalizing flesh as a tool. Yet in spite of the intensity and seriousness with which she approaches her work, Smith is unintimidating. Born in Centerville, Iowa, even after years in Tel Aviv and New York becoming a rising star in the dance world, first as a performer and now as a choreographer, she's maintained a Midwestern humility.
"I've always been inspired by the tectonic forces that create a new piece of land," said Smith, offering insight into the title of her newest work Lost Mountain. Commissioned by the renowned East Village experimental theater La MaMa, her study of momentum is a collaboration between 11 dancers, artists, and musicians (she's both choreographing the work and performing in it) and her process depends on all of them living and working together at a farmhouse-turned-artist retreat in Vermont in the weeks leading up to the May 16 premiere. "That kind of togetherness is really important to the kind of work I want to make. The audience will feel that this group of people has been together," said Smith before pausing, wrestling for a moment with a fleeting doubt. "I have to believe that it'll transmit."
Choreographing Lost Mountain as a series of vignettes set in a surreal domestic dreamspace, Smith is exploring forceful interconnection, "how people crash into each other," as well as nostalgic yearning, the "lost mountain" being a sort of imaginary place to represent "a feeling of missing that's in all of us." A red carpet, a long wooden table, and a velvet couch help set the Lynchian mood of an uncanny dinner party that, following an abstract logic, "beautiful events spring out of." Smith is forgoing the convention of separating musicians from dancers. "I really love to see musicians integrated into the work so they're not off to the side of the stage or invisible in the orchestra pit like they don't have a body," she explained. "We take for granted that their sound comes from a movement they're making with their body."
The radical vulnerability necessary for creating the type of performances Smith puts on means that the artist is continually recommitting herself, whether it's in a moment of improvising with a collaborator and choosing to stay open or deciding to forego the security of dancing for a company to forge out on her own as a choreographer. That chance she took is chronicled in the eponymous 2017 documentary Bobbi Jene (now on Netflix) which tracks Smith leaving Tel Aviv-based Batsheva Dance Company after a decade working under artistic director Ohad Naharin for an unknown future stateside. The risk paid off. Since Smith returned to the US five years ago, she's landed a Dance Magazine cover, choreographed for films like the Natalie Portman-helmed Annihilation, and emerged as a serious new voice in the contemporary dance world with a string of critically acclaimed works that often center collaborations with musicians. She also teaches at Julliard where she was once a student.
"I feel really lucky," said Smith. But even with the celebrity she now has, thanks in part to the success of the wide-reaching documentary, the path of being an independent choreographer is not easy. A few weeks before the cast of Lost Mountain headed to Vermont, there was still fundraising to be done. In the Upper East Side apartment of an art collecting couple, Smith and some of the artists she's enlisted for the piece (including her husband Or Schraiber whom she met at Batsheva) performed in the intimate living room setting before asking the well-heeled art-patron audience for donations. In a long flowing black floral print dress, Smith improvised in the small space between windows, a coffee table, and chairs, the economy of her gestures and conviction of her gaze wildly striking. "I like to think of my gaze as being an echo of what my body senses," she said. "I imagine that the movement travels from deep inside and through my head and eyes."
That night Marta Miller, a veteran dancer in her sixties and actor Ezra Miller's mother who Smith's convinced out of retirement for Lost Mountain, introduced Smith with an emphasis on how hardworking she is. It's a word Smith used herself when gushing about what she admires in all the dancers and musicians she's brought together for the cast. There's the archetype of the dancer who has all the natural gifts but no drive or work ethic, and then her foil, the dancer with all the grit and determination plagued by some physical limitation. Smith is in some ways a success story of the latter, finding the world of contemporary dance after being kicked out of ballet school for not possessing the ideal body type. "Talent is nothing without guts," she affirmed.
One of Smith's first works after leaving Batsheva was an hour-long solo piece titled A Study on Effort, comprised of grueling gestures of physical exertion concluding with the "effort of pleasure," gyrating against a sandbag until she orgasmed. Interrogating effort became a focus for Smith for several years with later iterations of the piece developed in collaboration with violinist Keir GoGwilt (he's also in Lost Mountain). "I love working," insisted Smith, although she distinguishes effort from hard work. "Effort is deeper, emotional, physiological, and goes beyond our idea of 'hard work' usually associated with a goal. Effort is pointless, in the sense of achieving anything, but meaningful in and of itself. It's less about working hard and more about the commitment to the endless work."
As she prepared to start rehearsals for Lost Mountain, Smith explained the hard work to come of staying vulnerable and present in the moment, which is essential to her style of choreographing that depends a lot on collaboration and improvisation. "I'm trying to just listen and stay open," she said, adding with a laugh, "It sounds so simple, 'listen and stay open.' Sure. But it's really difficult!"
*This article has been corrected to reflect that it is a May 16 premiere not May 14.