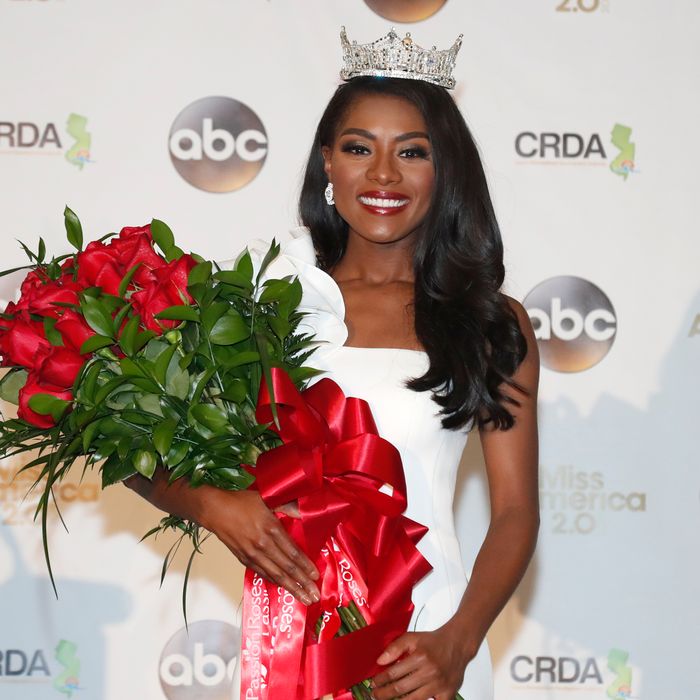 2019 Miss America Nia Franklin.
Photo: Lou Rocco/ABC via Getty Images
For the first time in the history of the pageants, black women won the crowns in the Miss America, Miss USA, and Miss Teen USA competitions in the same year. Nia Franklin was crowned 2019 Miss America in September 2018, then Kaliegh Garris was crowned 2019 Miss Teen USA, and on Thursday, Cheslie Kryst was crowned 2019 Miss USA.
According to Essence, both Kryst and Garris wore their hair in natural styles for the competition. In an interview with Refinery 29, Garris said that she chose to wear her natural curls because she was able to send a message.
"I know what I look like with straight hair, with extensions, and with my curly hair, and I feel more confident and comfortable with my natural hair," Garris said. "Being able to spread the message of diversity, being yourself, and being confident in your curly, natural hair is something that I'm really looking forward to with my new national title."
In addition to being Miss USA, Kryst is a lawyer who is certified to practice law in two states. According to CNN, she has an MBA and law degree from Wake Forest, and an undergraduate degree from the University of South Carolina. Kryst works pro bono to help provide legal aid for prisoners.
Nia Franklin, who represented New York, is an opera singer. She works with arts advocacy programs to help bring music to children. During the Miss America pageant in September, she explained why music was always important to her.
"I grew up at a predominantly Caucasian school, and there was only 5 percent minority, and I felt out of place so much because of the color of my skin," Franklin said. "But growing up, I found my love of arts, and through music that helped me to feel positive about myself and about who I was."
Presidential candidate Senator Kamala Harris praised the three women on Instagram following Kryst's crowning.
"What a tremendous moment for these young, successful women making their own path, on their own terms. Truly amazing to see," Senator Harris wrote. "Nia, Cheslie, and Kaliegh: you are trailblazers, creating your own path on your own terms. Congratulations!"