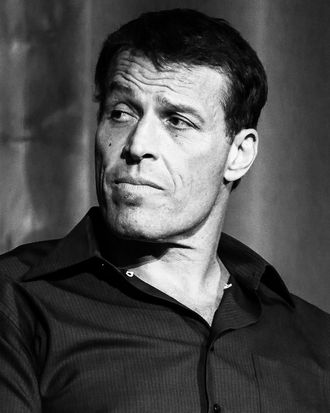 Tony Robbins.
Photo: Scott Legato/Getty Images
Self-help guru Tony Robbins has been accused of making unwanted sexual advances toward female employees and berating rape victims in a new year-long investigation from BuzzFeed News. He vehemently denied the allegations in an open letter posted on Medium.
Robbins's world-famous self-help business is worth billions of dollars — his most exclusive membership program reportedly costs upwards of $85,000 per year — and he has worked with celebrities ranging from Oprah to the Kardashians. He also works extensively with abuse victims and those suffering from mental health issues, promising to "transform" their lives and "rewire" their brains.
However, in the new BuzzFeed News report, Robbins — who issued an apology in April 2018 for saying that women were using the #MeToo movement to gain "significance" — has been accused of abusing his power in his business and in his seminars, fostering a "highly sexualized environment." According to the report, Robbins would ask both men and women to touch themselves "intimately and simulate orgasms" during his events. Furthermore, several employees have alleged that he sexually harassed them in the 1990s and early 2000s before marrying his second wife; two of his former followers-turned-staffers signed statements under oath that he made unwanted advances.
Per BuzzFeed News:
Two more women who worked as his assistants said Robbins expected them to work alone with him when he was naked in his hotel room or in the shower. And another former employee said she was fired after having a consensual sexual relationship with Robbins.
Recordings and transcripts obtained by BuzzFeed News also reportedly show that Robbins went on "expletive-laden tirades" against rape and domestic abuse survivors in front of an audience — after asking them to share their stories.
"She's fucking using all this stuff to try and control men," he said after one woman said she had been raped. When, in 2018, another woman said her husband was physically violent and emotionally abusive, Robbins accused her of "lying" and asked: "Does he put up with you when you've been a crazy bitch?"
In a letter to BuzzFeed News, lawyers for Robbins called the harassment allegations "salacious and false" and said he denied "engaging in any alleged 'inappropriate sexual behavior.'" The letter also stated he was "never intentionally naked" in front of staff members. It continued, "While BuzzFeed attempts to portray Mr. Robbins's remarks in a negative fashion, it is important to remember that when Mr. Robbins says something like 'victimhood is rewarded in our culture' that's because, in some cases, it is."
Robbins also issued a denial in an open letter published on Medium on Friday morning. He wrote, in part: "Let me be clear, while my open-classroom therapeutic methods are not for everyone, and while I am on my best day still only an imperfect human being, I have never behaved in the reckless, irresponsible, or malicious manner intimated by false, unfounded, and incendiary allegations suggested by BuzzFeed story-tellers."
Read the full report here.
This post has been updated.