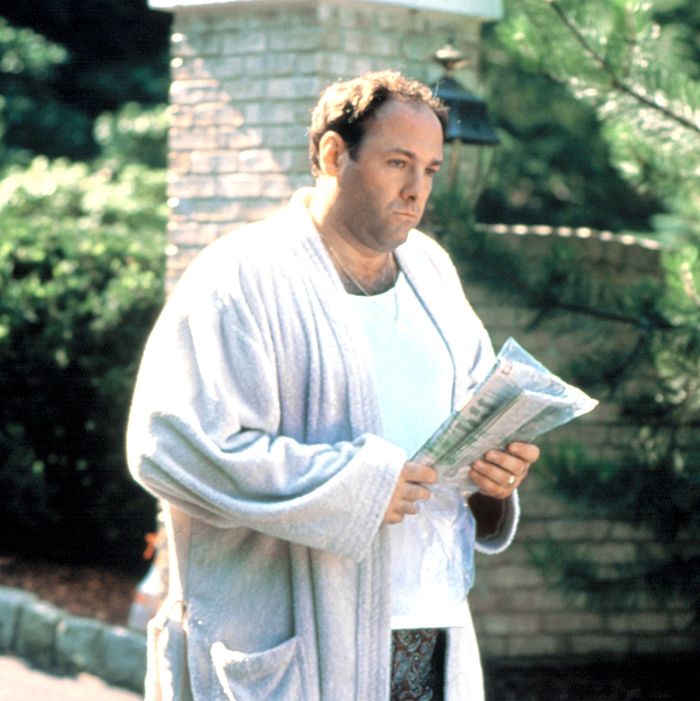 i enjoying mysekf by the pool, but then i remembered instances of regret in my life, and pain i have caused others.
Photo: ©HBO/Courtesy Everett Collection
In this, the hallowed 20th year since The Sopranos first premiered on HBO, the house that Tony Soprano and his family lived in has gone up for sale.
The New York Times reports that owners Patti and Victor Recchia are asking for $3.4 million for their 5,600-square-foot McMansion in the suburb of North Caldwell, New Jersey. While most of the indoor scenes took place in a replica of the house's interior built in a Queens studio, the exterior was featured prominently in filming throughout. Victor told the Times that fans will frequently pull up outside, quickly put on a robe, and take a shot mimicking James Gandolfini blearily picking up a paper in the mornings. (A Facebook page dedicated to the house, called "Sopranos House," features many such homages.)
The house was originally built in 1987 but has been renovated extensively since then. It's not listed through a real-estate agent, but interested buyers can contact sopranoshouseforsale@gmail.com to place their bid.
Just think: you too could have an existential crisis because a family of ducks moved into your pool, enjoy platter after platter of gabagool straight from that kitchen island while you yell at your know-it-all teenage daughter and bratty failson, fight with your difficult sister who has a Rolling Stones tongue tattoo on her breast at the dining table, or have all the other mob wives over to watch Citizen Kane in your screening room. And the Bing's just a short drive away. Ho!