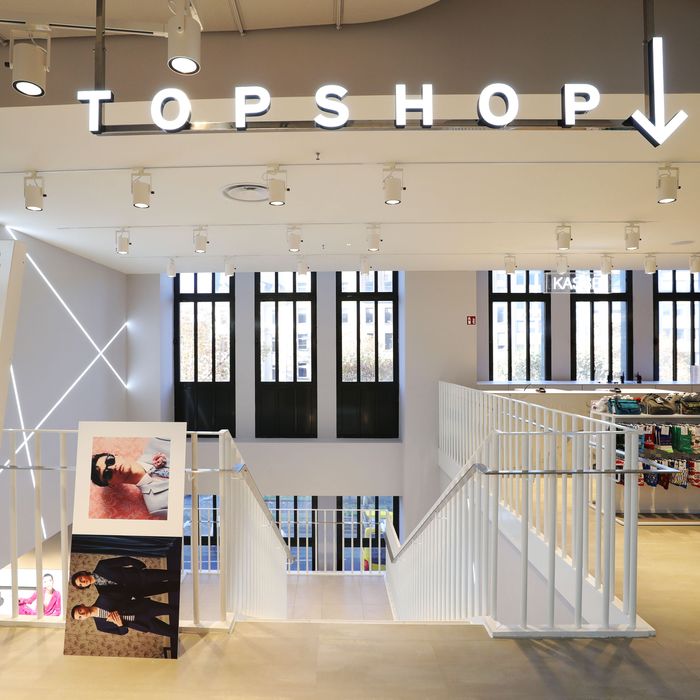 Photo: Andreas Rentz/Getty Images for Topshop Topman
Brick-and-mortar retail has pretty consistently been in trouble for years now, but in the past few weeks, Topshop has been in free fall. The brand's parent company, Arcadia Group, filed for bankruptcy in the U.S. and announced it would close all 11 U.S. stores. On top of that, owner Sir Philip Green has been charged with allegedly groping a fitness instructor in Arizona.
What is going on here?
Let's start with the closures. Topshop launched to much fanfare ten years ago — over 1,000 people lined up for the Soho store's opening in 2009 — but the hype never translated into sales. The company had planned to open 28 stores in the U.S., but got only to 11.
Topshop has struggled to compete with the new, faster-than-fast online-native shops like ASOS and Amazon. Arcadia Group said the market conditions were "unprecedented" and the decision to restructure (which includes closing stores and filing for bankruptcy) was a "tough but necessary decision." The closures were announced last Thursday, and liquidations started one day later on Memorial Day Weekend.
How do the sexual-assault allegations tie in?
Green was charged today with four counts of misdemeanor assault in the U.S. The incidents allegedly happened at a resort in Tuscon in 2016 and 2018. The complainant said Green had "slapped her bottom," per the BBC. A statement from Arcadia said he "strenuously denies these allegations." It's not the only allegation against him, however. An investigation by The Telegraph, made public last October, accused Green of bullying, racial abuse, and sexual harassment of employees.
Shortly after the Telegraph investigation, Beyoncé, who had sold her activewear brand, Ivy Park, at Topshop, severed her ties with Green and the store. Some called for boycotts against Arcadia Group brands, but it's not clear if these had any substantial financial impact on the stores. But Green's personal fortune reportedly halved between 2018 and 2019, and he's now merely the 165th richest Briton instead of the 66th.
So is this the end of Topshop?
Not entirely. While the physical stores will be no more, Topshop and Topman will still be sold online and via their wholesale partners, including Nordstrom and, ironically, ASOS, one of the online retailers being blamed for the brick-and-mortar demise.