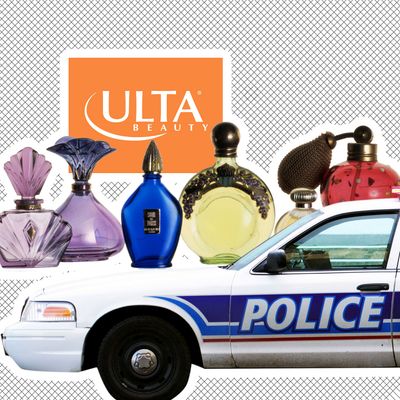 Several Ulta-related fragrance thefts have been in the news lately, but the latest Ulta perfume heist is by far the most cinematic. Yesterday, the Napa Police department took two women into custody after they lifted almost $3600 worth of luxury fragrances from Ulta Beauty on Trancas Street in Napa, California.
According to CBS SF Bay Area, the two women entered Ulta just after 11 A.M. and "cleared out several shelves of high-end perfumes," before they "physically confronted" employees who tried to stop them and fled in their car. Things only got more dramatic when undercover detectives from the Napa PD spotted the vehicle — its license plate was covered with a lacy number in an attempt to remain anonymous yet still look beguiling at the same time:
It worked because everyone was sure it was just "lacy lingerie" at first glance, until the plate was later unmasked up close and in person.
Anyway, while the "blouse" was still riding high, American Canyon Police also joined the chase. Yes, this sounds like another team of law enforcement mounted on bovine animals teamed up with Napa PD, but turns out American Canyon is the next town over and the suspects had boldly crossed town lines. The chase ultimately came to an end when the suspects attempted (and failed) to jump some railroad tracks (!) at a dead end, only to flatten all four of their tires and render themselves trapped.
No fancy glass bottles were harmed in the pursuit and Napa PD updated the public via a photo album on its Facebook page. The comment thread has no shortage of "sniffing out crime" puns, but we're still left with so many questions: How many bottles of perfume can you really get with almost 4k? What brand is the blouse? Which "high-end" shelves got cleared? What did the inside of the car smell like?
"The manager at Ulta Beauty told me she couldn't comment," reporter Joe Vazquez said during the newscast, while Napa PD simply said it was "Enough perfume for a lifetime," so we'll have to speculate. Judging from that license plate shot, it looks like 4K will get you two almost-full Ulta in-store totes' worth of product, including a few gift sets. The haul looks like it contains some Dior, and I'm going to guess that trunk smelled like tuberose, amber and musk, because what doesn't these days.