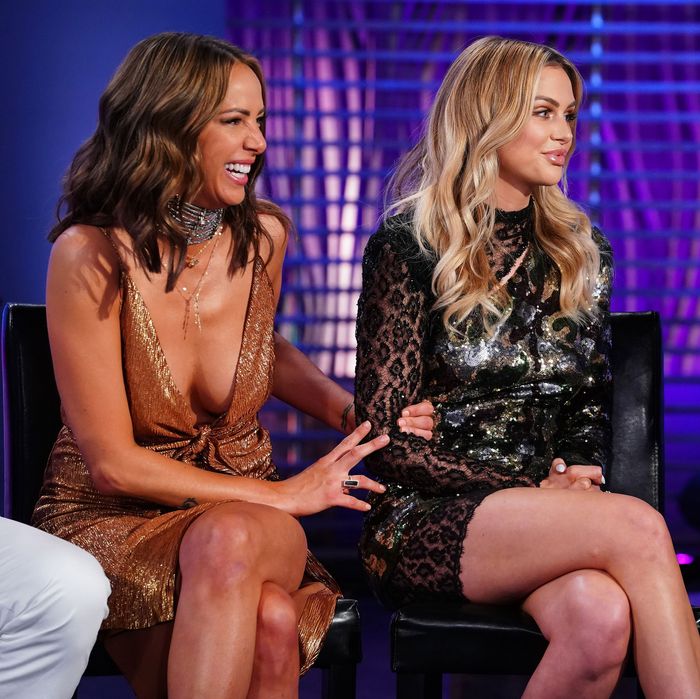 Photo: 2019 Bravo Media, LLC
God, I love Vanderpump Rules reunion episodes — the laughing, the crying, the candid screaming of illicit details that we did not get on proper episodes of the show. We are blessed this season with a three-part reunion bundle, one more part than the previous seasons' standard (two), and the first episode — filmed the night before Lisa Vanderpump opened her Las Vegas restaurant in March — aired on Monday night. It ended with reunion host Andy Cohen screaming, "GUYS! SHUT THE FUCK UP!" But what happened before that? Let's count down the top five most dramatic moments and revelations.
5. Kristen Doute Is Single
There was a flurry of rumors in February that Kristen and her terrible live-in boyfriend Carter, who was rude to her and did not pay rent, had broken up (or were, at least, on shaky ground). At the time she told Andy Cohen, on an episode of Watch What Happens Live!, that she and Carter — whose full name is "Brian Carter," which I just learned right now — were "figuring it out." Well, it seems as though it has been figured out. At the beginning of the episode, Andy asked if Kristen was single. To the apparent surprise of the rest of the cast, she confirmed that she was. Uh-oh. Good-bye (I hope) forever, jerk. Carter sucks!
4. The Resentment About Lala's Somewhat Private Relationship With Randall
In that same episode of Watch What Happens Live!, Kristen Doute said she "bleeds out for the show," explaining that she doesn't hold anything back, which can make maintaining a relationship more difficult than it would be otherwise. The rest of the cast seemingly agrees with Kristen's assessment of what it takes to be a cast member, and chose the reunion as the time to gang up on Lala for the fact that her now-fiancé Randall has not agreed to appear on the show. "He's a part of your life," Scheana said. "We all give 100 percent of our lives, but not you."
"Well, get a man with a career," Lala told Scheana. Oh shit!!!!!!!!! She pointed out that the guys Scheana dates actively want to be on the show; Randall is different in that he does not need Lala's fame to further his career (he is a successful producer and recently got into a very public feud with 50 Cent, so). Stassi took offense to this — Beau has his own career as, I think, some sort of commercial producer or commercial casting … person, and doesn't need Stassi's fame, she pointed out, and yet he subjects himself to the horror of filming a Bravo reality show! So why not Randall?
(Stassi also attempted to say she understood what Lala is talking about, because she, in fact, was the subject of the exact same resentment a few seasons ago when she decided to keep her relationship with her at-the-time boyfriend Patrick off of the show. [This is before they broke up and got back together, at which point he agreed to be on the show, and showed himself to be the biggest jerk of all time.] Stassi was shouted over when trying to make this point, and did not get very far in making it.)
The argument amount to, basically, "If all of our relationships have to suffer to feed the beast of reality television, yours should, too." It is, in my opinion, a difficult argument to make, though I see why they would want to make it.
3. The Fate of the Frozen Shot Machine
Finally, we found out what happened to the frozen shot machine. At the end of the sixth season, Tom Sandoval unveiled to Lisa Vanderpump a frozen shot machine that he said would make Tom Tom stand out among Hollywood bars, as it would be the only bar that had such a device. He prepared a frozen shot for her at Tom Tom's "progress party," and she seemed to enjoy it. This is why many, including myself, were surprised to see that the (admittedly quite cumbersome) frozen shot machine (it was very large and produced only a handful of, you have to imagine, not particularly easy-to-take frozen shots) was not included (!) in the Tom Tom menu or mentioned at all during the show's seventh season.
During the reunion, Lisa Vanderpump explained that this is because her husband Ken did not have the shot machine when he was planning the layout of the bar. "Ken, when he planned out the bar, he said: 'Where is it, I don't have it?' And then it was too late," she said. Sandoval told her it had been at the restaurant for three months. "Well, then you should have been there when he was planning out the bar." Hm. I suppose there is still a little mystery left. Poor frozen shot machine. I wonder where he is now …
Talk of the frozen shot machine led to an illuminating discussion about the fact that Tom Sandoval and Tom Schwartz haven't seen any money, yet, from Tom Tom.  (Jax asked, "Are you getting paid?" and Schwartz said, in a way that was supremely Schwartz, "No, we have not been compensated.") Andy Cohen pointed out that this was normal when investing in a restaurant — you don't usually see a return for some time. Lisa agreed, saying she hasn't seen any money from Tom Tom yet either. Katie said the Toms thought they would be getting something more like … a salary.
"Honestly, I love you guys and I like this situation," Sandoval said, "but there are things where I feel like, I wanna know questions and they never sort of get answered."
Seems complicated! I do not know how taking part in owning a minority share of business tends to work, particularly when you are also working as a bartender in the business, but it seems like the Toms should, or should have, employ, or employed, a lawyer to at least explain to them like … whether or not they would be getting a salary.
2. Jax Made a Fake Raquel Twitter Account?
This was odd. In a full-cast argument that began when Raquel started to answer a question about, I think, why she has remained with James, with the words: "You look at me like, Why is this beauty queen…" She continued, seemingly obliviously, while the majority of the cast — sans James, Ariana, and Sandoval — laughed and murmured to each other in reaction to this assertion. Then James yelled at Jax — "SHE IS! IS YOURS?" (Meaning, is Brittany a beauty queen?) Yikes!
Anyway, the cast screamed at each other about James, and how everyone calls Raquel dumb, and how Raquel is dumb, and something about how Lala saw James suck on a boob in Canada (?), and about how James tweeted about Lala and Jax's dads, and something about how Jax set up a fake Twitter account under Raquel's name in order to tweet that Raquel believed James had cheated on her. Jax denied setting up the account, at which point Ariana screamed that, in fact, they proved he had set up the account when they found out his phone number was connected to the account. Oh my! Personally I would like to hear a lot more about this and I hope it comes up again.
1. Raquel in General
Oh, girl. Also she works at SUR now.
See you at part two!