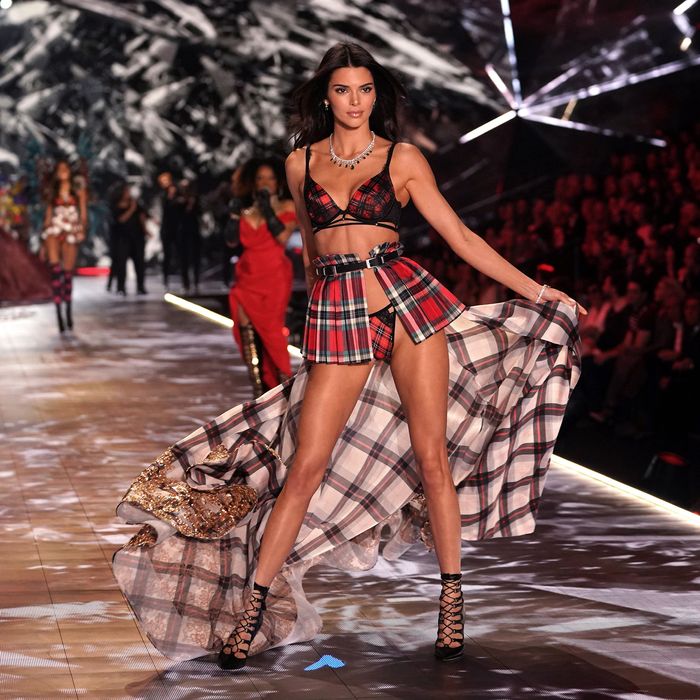 Apparently content like this just isn't resonating anymore.
Photo: Timothy A. Clary/AFP/Getty Images
After its annual fashion show posted its worst-ever ratings in November, Victoria's Secret has reportedly decided to "rethink" the spectacle's nearly two-decade tenure on network television.
CNBC reports that L Brands CEO Les Wexner circulated a memo announcing that the networks no longer felt like the "right fit," and that the underwear giant will be "rebirthing" the brand to stage a "new kind of event" better suited to the customer. Emphasizing that the "strength and positive perception of the Victoria's Secret brand is unparalleled," Wexner wrote:
Fashion is a business of change. We must evolve and change to grow. With that in mind, we have decided to re-think the traditional Victoria's Secret Fashion Show. Going forward we don't believe network television is the right fit. In 2019 and beyond, we're focusing on developing exciting and dynamic content and a new kind of event — delivered to our customers on platforms that she's glued to … and in ways that will push the boundaries of fashion in the global digital age.
Perception of Victoria's Secret has lately been a lot less than positive, however, a trend for which its top execs can thank themselves. Just before the most recent show, Vogue published an interview with two of its "chief architects," Ed Razek and Monica Mitro, in which Razek made some particularly insensitive comments when challenged on the show's lack of transgender and plus-size models. Razek subsequently apologized, but his words did little to make viewers, and celebrity fans like Halsey, feel better about the show. The brand's chief executive, Jan Singer, resigned shortly thereafter.
The company billed its 2018 show as its biggest ever, but the content still failed to resonate with viewers, only 3.27 million of whom tuned in. (Compared to 2013, when 9.7 million people watched, that's a pretty paltry number — but the event has been hemorrhaging viewers for years.) It had moved from CBS to ABC, and from its long-time Tuesday slot to Sunday night.
Victoria's Secret also seems to have had a hard time competing with a raft of recently arrived online retailers that offer wider size and skin-tone ranges than the mall titan does. According to CNBC, it's been closing brick-and-mortar stores and brought back its swimwear line to counteract spiraling sales. It's almost as if people don't have any interest in paying many millions of dollars to entomb their boobs in bras made of extra-hard rocks! Or in shopping at a company with a history of using prison labor, or in buying an undergarment for adults that invariably comes with at least one infantilizing bow sewn onto it. Indeed, there seem to be a number of reasons why Victoria's Secret has lost footing with its target demographic.
The Cut has contacted L Brands for comment, and to see what exactly this "new kind of event" might entail. We will update if we hear back, but in the meantime: R.I.P. Gigi Hadid's gym class parachute cape-suit.