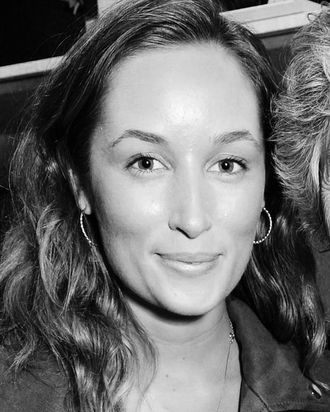 Yvonne Bannigan.
Photo: Richard Young/REX/Shutterstock
Former Vogue staffer Yvonne Bannigan was sentenced to three years probation on Wednesday for stealing more than $50,000 while working as the assistant to Grace Coddington, the magazine's creative-director-at-large, the New York Post reports.
News of Bannigan's arrest broke late last May; as if by serendipity, it was timed shortly after Jessica Pressler's New York exposé on fake German heiress Anna Delvey was published, helping to kick off what was dubbed the "Summer of Scam." The Irish-born Bannigan had reportedly worked at Vogue for a short amount of time before becoming Coddington's assistant in 2016. That same year, the Post notes, she appeared in a Teen Vogue spread with her now-former boss.
At the time of her arrest, Bannigan — who worked for Coddington for two years — was accused of stealing a total of $53,564, mostly through charges to credit cards belonging to Coddington. On top of that, Bannigan was also accused of selling Coddington's property on the online consignment shop TheRealReal, pocketing $9,000 in commission herself. She was charged with second- and third-degree grand larceny, and although she initially called the crimes a "misunderstanding," Bannigan eventually pleaded guilty to one count of fourth-degree grand larceny.
On Wednesday, Bannigan, 26, was sentenced in Manhattan Supreme Court — while wearing a black-and-white polka-dot dress, the Post had to note. She received three years of probation, and had already completed 15 days of community service under her plea deal.