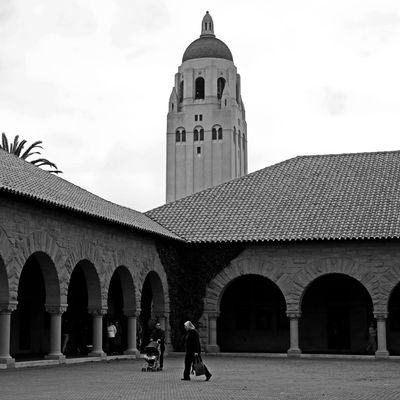 Stanford University.
Photo: Justin Sullivan/Getty Images
When news of the major college admissions scandal broke in March, much of the focus centered on the involvement of actresses Lori Loughlin and Felicity Huffman. But another notable family flew somewhat under the radar: the one that handed over a whopping $6.5 million just to get their kid into a Good School.
Though some publications took note of the absurd sum last month, both the family behind it and the school they (allegedly) bought their child's way into remained a mystery. On Thursday morning, multiple news outlets finally identified the people behind the millions: the Zhaos, a Chinese family whose daughter Yusi attended Stanford University — until the school rescinded her admission in April, according to the New York Times.
Initial reports shed some light on what transpired — William "Rick" Singer tricked Stanford into believing that Yusi was a competitive sailor, people familiar with the matter told the Los Angeles Times — but what compelled the family to hand over a ridiculous amount of money remained unclear. But today, the student's mother ("Mrs. Zhao") put out a statement through her lawyers, in which she claims that Singer "misled" her.
In the statement, Mrs. Zhao said she initially believed that the money she handed over was a donation for scholarships and funding, and was not bribe money to get her daughter into Stanford. (She says she sought out Singer's help because she was not familiar with the college admissions process in the U.S.) But now that the major scandal has come to light, per her statement, "Mrs. Zhao has come to realize she has been misled, her generosity has been taken advantage of and her daughter has fallen victim to the scam."
As of now, the Zhaos are not part of the 50 people charged over their alleged involvement in the scandal, but they could be soon. Per a report yesterday from the New York Times, federal prosecutors are looking at a brand-new group of parents who were potentially involved in the scandal.
Makes sense that more parents are scared!
This post has been updated.