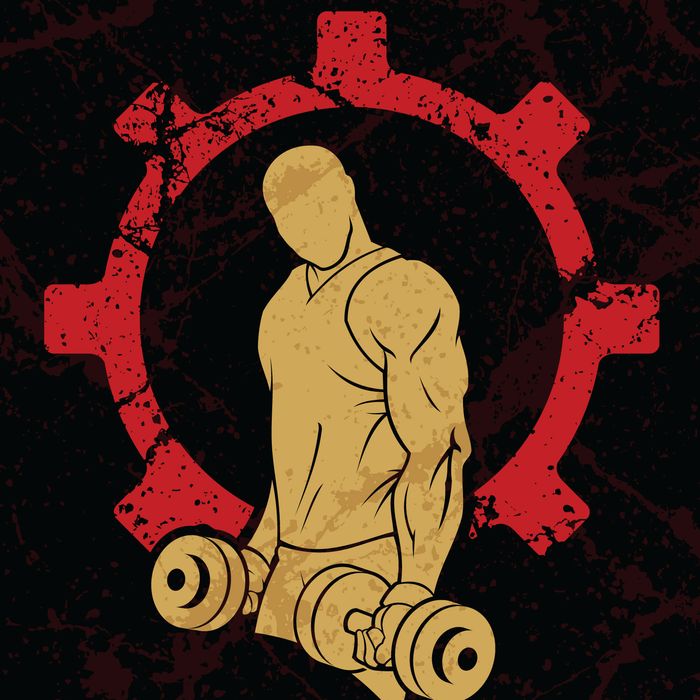 MAN STUFF.
Photo: Getty Images
So you have a product that you want to sell to men. Hell yeah, my man! I mean, I'm assuming you're a man. I'm assuming that you know, firsthand, that men need special, tougher products, because man hands are too strong for girly packaging, and man sweat is so powerful it melts steel.
Before we get started, let's look at some companies that really know how to sell to men:
• There's Powerful Yogurt, yogurt that's tough, unlike that Jamie Lee Curtis constipation stuff. Their logo looks like a bull instead of a cow, so you're forced to wonder, "Is this yogurt made from … bull semen?" A cool, manly question.
• There's Liquid Death, the canned-water start-up co-founded by former Netflix creative director Mike Cessario. There's a skull on the cans, and the tagline is "Murder Your Thirst." Because, as we all know, before Liquid Death came along, the No. 1 criticism of water among male thirst-quenchers was: "Not violent enough."
• And War Paint, the London-based cosmetics company that makes makeup "formulated specifically for men's skin." Check out this sick promotional video, which includes a woman moaning right at the beginning (hot), a ripped guy with pierced nipples, and a skull ring.
Remember, any product can be marketed to men, even something that has been the exclusive province of women for time immemorial, like water. All you need to do is make sure your marketing materials are really tough and masculine.
Connect with men by showing them things they love. Things like: fire, tattoos, blood (non-menstrual), skulls, bulls, spikes, leather bracelets, dirt, rocks, SEXXX, mountains, cold hard CA$$$H, motorcycles, barbells, gray T-shirts, red meat, Joe Rogan, golden retrievers, skateboarding, camo, guitars, dinosaurs, sports, knives, arm-wrestling, regular wrestling, the constant all-consuming fear that if you don't assert your masculinity aggressively enough people will dismiss you, sweat, shredded abs, tigers, saying swears, cigars, quoting Scarface, more SEX, weapons, Tucker Max, baseball caps, jackhammering, mud, trucks, iron, the Sports Illustrated swimsuit edition, abandoned construction sites, brown liquors, those big tires you push over, etc.
So, for example, say you're trying to sell an exciting new fruit-forward Pinot Noir from Oregon. Call it Dirt Blood, and have your ads be videos of a man driving a truck on a dirt road and chugging Pinot, before pulling over to make out with a woman with big boobs (hot). Then maybe he looks into the camera and says something like, "Dirt … It's in my blood." And you're like, What? But you're also pumped. You're pumped to buy a wine called Dirt Blood.
Or maybe you're trying to sell Roth IRAs. That's not sexy. Get Tucker Max to do your ads and he could say something like, "I've slept with a lot of women, so you should trust me. Get a Roth IRA." And then he does the finger. Also maybe instead of Roth IRAs you call them F*ck Funds.
Anyway, these are all very good, very free ideas. Shotgun a beer, tell a woman on Twitter she's a 3/10, and then go and make your dreams come true, brother.