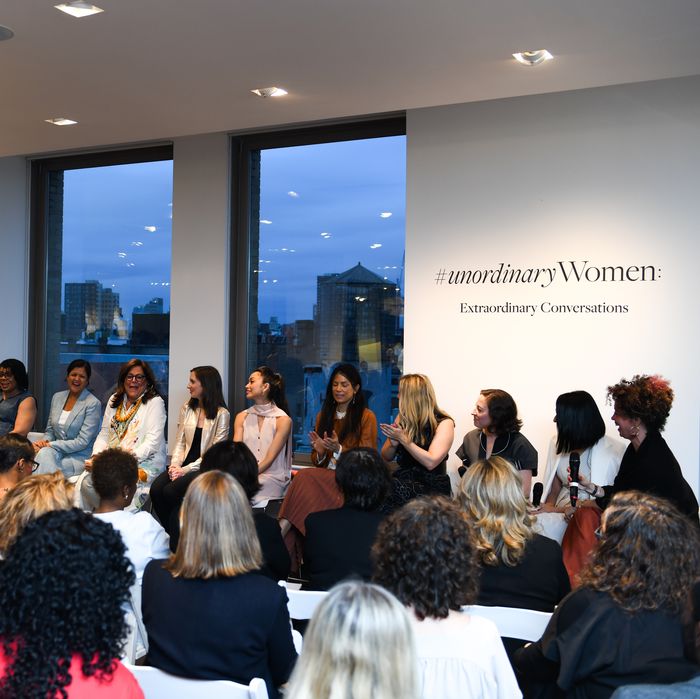 Photo: [YOUR NAME]/BFA.com/Griffin Lipson/BFA.com
Last night, a packed room of people paid rapt attention to Lafayette 148's "Unordinary Women, Extraordinary Conversations" panel, hosted with She's the First. Twelve women, ranging from Niki Russ of the Russ & Daughters empire to activist Rachel Cargle gathered for a conversation about, well, essentially being extraordinary women.
The founder of New York Fashion Week, Fern Mallis, moderated the conversation between model Veronica Webb, White House correspondent April Ryan, ballerina Stella Abrera, photographer Sophie Elgort, president of Meredith Media Group Catherine Levene, lawyer Anjali Kumar, head of product at the Whitney Museum Lauri Freedman, Mother Untitled founder Neha Ruch, chef Marie Aude-Rose, founder of The Collective Cyndie Spiegel, owner of Russ & Daughters Niki Russ, and activist Rachel Cargle.
What do they have in common? Well, aside from professional success and general loveliness, they want to empower other women, specifically. Freedman, speaking about her experiences in the art world, encouraged people to be the catalyst for change and buy from women whenever possible. But in terms of advice for becoming an empowered woman yourself, I liked what Ryan said. "My mother told me it's not what they call you, but what you answer to." Words to live by.