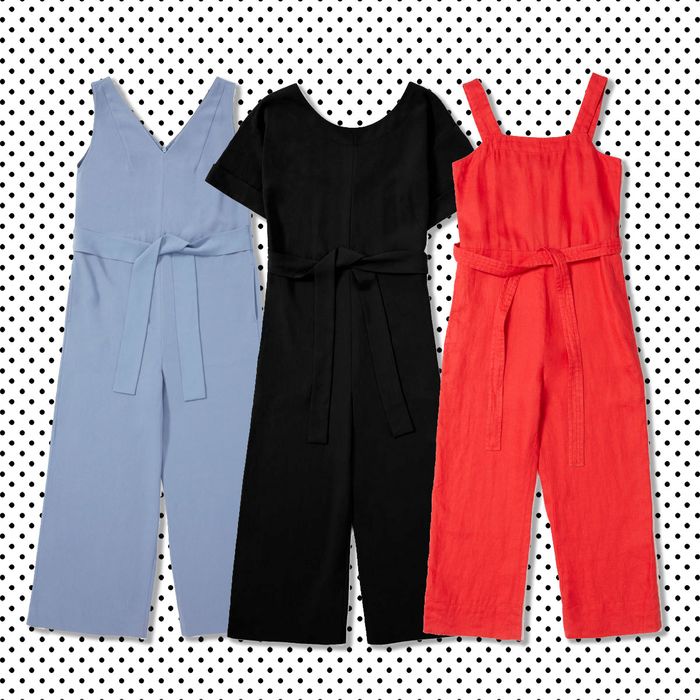 Photo: Courtesy of Everlane
On any given day, it feels like half the women on the New York subway are wearing Everlane and the other half are wearing jumpsuits. So when the ethical fashion brand announced that it was launching its first jumpsuit this spring, it seemed like a bid for total summer-attire dominance.
The jumpsuits come in three different variations that can be worn loose or cinched at the waist with a tie. There's a linen jumpsuit for $88 that seems like an obvious hit in tomato red, plus two Japanese GoWeave options, one sleeveless and slightly dressy ($120) and one short-sleeved and more businesslike ($130). Sizes range from 00 to 16, so we gathered nine different staffers who also range from 00 to 16 to see how they fit. Read on for their reviews.
Madeleine Aggler, Staff Writer
I had mixed feeling about this Everlane jumpsuit. At first I thought it might be billowy and loose in an eccentric ceramicist way, but as the day went on, I decided it was more billowy and loose in a rumpled baby way. Still, it was extremely comfortable, as most baby clothes are. I wore it to a picnic and after two glasses of wine was able to execute several very okay cartwheels and half-climb a tree. I also got many compliments on the color. Overall, I'd say it's a good jumpsuit for a casual summer day where you plan on doing gymnastics. Size 12
Brittany Brown, Online Copy Editor
Since I've never shopped at Everlane before, I had no idea what to expect with this jumpsuit. I usually wear between a size 8 and 10 and I didn't want it to be bunchy in the torso, so I went with the 10. Turns out that wasn't necessary — the jumpsuit is quite roomy, and the adjustable straps actually make a huge difference.
The jumpsuit is flowy and managed to keep me cool while I was walking in the park and running errands on a very warm day. I loved the deep pockets (big enough for an iPhone X) and the cropped length, which allows you to showcase your cute summer sandals. But I couldn't go more than five minutes without wrinkling the material. In the end, I tried to convince myself the effect was "beachy," but because of the wrinkling I don't think I'd try to dress it up — it's strictly a run-around-outdoors outfit for me. Size 10
Emilia Petrarca, Fashion News Writer
I'm glad I got this jumpsuit in black because it's fitted enough that it works for both formal and casual settings. I could wear it to a work function or a nice dinner with the belt and some espadrilles. And I could wear it to a different kind of dinner, with friends and with bigger portions, without bothering with the belt. Obviously, I prefer the latter. Size 00
Paola de Varona, Editorial Assistant
I'm obsessed with the color of this jumpsuit! I decided to wear it when I went back home to Miami for the weekend and the linen did not disappoint — I felt refreshed and comfortable even in the sweltering heat. A note about fit: I wanted it to be loose on my thighs and hips, so I went for a bigger size, but the leg and torso area ended up being too long for me. I wound up using the tie to hold up the pants and bunched the top above the bow, which worked pretty well, but if you're between sizes, I'd size down. Size 16
Kelly Conaboy, Writer-at-Large
I'm five-foot-two and was worried the jumpsuit would drag on the ground, and I have a child's body and was worried the jumpsuit would hang on me like a potato sack. I'm happy to report it did neither. The length was fine flats and would be perfect with heels, and the fit worked well, particularly after I made use of the little sash which I almost forgot in a bathroom at one point because it is not attached (a warning). It made me look like an adult woman, which made me have the unfortunate realization that I could, in fact, dress like an adult if I wanted to; I am just not trying hard enough.
The fabric and color, though — sturdy, drape-y, and dusty blue — sort of made me feel like I was part of a bridal party. My first thought was, "I could wear this to a wedding!" But then I realized what I was actually thinking was, "I could wear this in a wedding!" I don't think that will stop me from wearing it to a wedding, though. Or out to dinner. Or on a plane! Size 0
Sarah Spellings, Fashion Writer
My favorite summer jumpsuit shrunk in the wash, so I've been waiting for a new basic black jumpsuit to come my way. I think this is the one. It's a chameleon of a jumpsuit — with a not-too-deep neckline, wide straps, and a roomy silhouette, it could go from a day of running errands to a nice dinner. I had never worn anything in the Everlane GoWeave fabric before, and I was pleasantly surprised. It's a nice middle weight that makes it feel office-appropriate. I'm probably going to hem the legs an inch or so, but that's just a personal preference (I love my ankles). Size 8
Lisa Ryan, Senior Writer
I liked the Everlane wrap dress, so I was excited to try out the jumpsuit. But unfortunately, it just didn't work for me. While I was happy with the top (everything was covered up and my bra straps didn't show), I wasn't a fan of the bottom. I'm five-foot-four, which is neither short nor tall, but the pants hit awkwardly on my ballet flats. The wide legs swayed in the wind, which was fine until they got staticky and started sticking to my actual legs. I feel like this jumpsuit is designed to work for taller people, or those who have access to a tailor. The dusty blue color was lovely, though. Size 8
Devine Blacksher, Fashion Assistant
I chose the linen jumpsuit for two reasons: I knew the straps would be the most flattering for my shoulders and arms, and the material would be breathable in the summer heat. I've always loved the look of jumpsuits, but they're hit-or-miss for me due to my short torso and long legs. It all depends on the waistline, and in this case, the adjustable belt made it work. I would definitely recommend this jumpsuit, but make sure you know your measurements — I had to go up one size to make room in the chest area. Size 8
Gabriella Paiella, Senior Writer
I frequently fantasize about replacing my entire wardrobe with a rotating selection of jumpsuits: they're utilitarian and comfortable, a low-maintenance way to look instantly put-together. The easily wrinkled linen fabric and light color of this one means that I'll probably just wear it during the day on weekends. There is a belt that makes it more flattering, but I love a good shapeless silhouette — this is an outfit that could work both for a Park Slope mom who's super into pottery and her toddler son Aydënn. (If you also want to go belt-less I recommend going down one from your usual size.) Oh and definitely iron it before you leave the house. Which, as you can see here, I did not. Size 4