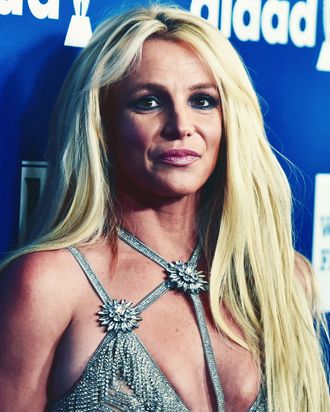 Photo: Alberto E. Rodriguez/Getty Images
On Friday, a Los Angeles Superior Court judge ordered an expert evaluation of Britney Spear's conservatorship, which has come under increased scrutiny following Spears's monthlong stay at a treatment facility. Spears's conservatorship is a precautionary guardianship currently managed by her father, put in place after she suffered a very public a mental-health crisis in 2008.
The Associated Press reported that the pop star joined her parents Jamie and Lynne Spears at the private hearing, closed to the public and media. Afterward, Judge Brenda Penny wrote in an order that all parties had agreed to a 730 expert evaluation, a proceeding typically used to assess mental health and competency of parents in divorce cases.
Details about the evaluation — whether it pertains to Spears's custody of her two kids or her father's oversight of her through the conservatorship — were not released. Spears's children, 13-year-old Sean and 12-year-old Jayden, often visit their mother, but Spears's ex-husband Kevin Federline maintains custody of them.
Spears's attorney, Samuel D. Ingham, had reportedly asked that the courtroom be emptied of journalists and fans due to the intimate nature of the hearing. People reports that Ingham said Spears wanted to address "issues with medical care" in addition to personal finances and minor children. The judge honored Ingham's request.
On May 6, Lynne filed a request to be notified of any news pertaining to her daughter's conservatorship and acknowledged that she planned to attend two hearings on the matter. Three days before the hearing, Spears requested a restraining order against her former manager Sam Lutfi, whom she's accused of harassing her and her family.