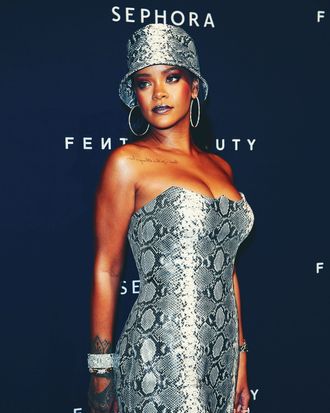 Rihanna.
Photo: Caroline McCredie/Getty Images
What even is the Met Gala without Rihanna? Last night, while countless humans tried their best to figure out what exactly camp is, many simultaneously let go of their negligible hope that the unofficial Queen of the Met Gala — whose absence was suspected — might shock everyone by showing up to the ball. Although Rih did take to Instagram to declare her favorite look of the night (Anna Wintour, who's intrinsically camp), she never did show up. So, the question then turned to, where the hell is she and how could she do this to us?
Though she never made any sort of official statement as to why she skipped the ball, Rihanna did tease her Instagram followers about what she was doing instead of mingling with celebrities dressed as hamburgers and Barbie. Around 8:30 p.m. on Monday night, when it became clear that the star would not be arriving, someone tweeted, "Rihanna at home playing with that fuckin makeup." Out of the hundreds about her that night, it was the one that caught her eye.
So, she screenshotted it and uploaded to her Instagram Story alongside a photo of Fenty Beauty products and the caption "met ball 2019," meaning that she was, in fact, sitting at home and messing with her own products. Honestly, an incredible flex.
Is playing with your own makeup line during the Met Gala … camp?