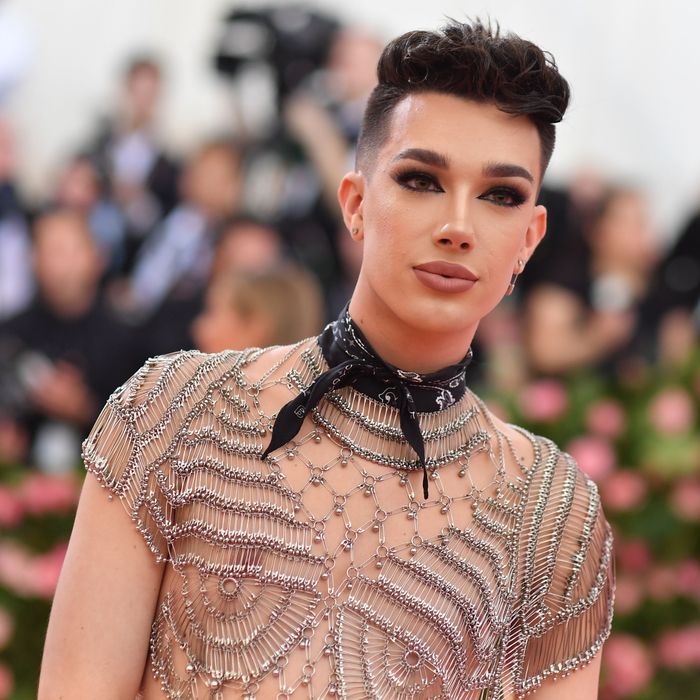 James Charles.
Photo: ANGELA WEISS/AFP/Getty Images
Unexpected drama is shocking the beauty-influencer world. Tati Westbrook, 37 — influencer, vlogger, and owner of a beauty-supplement company — is feuding with her former friend and mentee James Charles, 19 — who is an influencer, a vlogger, and a model. After Westbrook posted a tell-all video about their fight on Friday — which has gotten over 25 million views since it was posted — James Charles lost millions of subscribers to his YouTube channel over the weekend. Here's a breakdown of all the drama.
How did the James Charles–Tati Westbrook feud begin?
The drama between Tati and James began on April 22 while James was at Coachella, when he did a short Instagram video for Sugar Bear Hair, the gummy vitamins seen all over Instagram. The gummies are a direct competitor with Tati's beauty supplements, Halo Beauty. After the video was released, Tati posted a clip of herself to her Instagram, saying she felt "lost" and "betrayed" by an unnamed person.
What happened next?
Following Tati's video, James posted a statement to his story, which was reposted by BuzzFeed. "I want to publicly apologize to my close friend, Tati," James wrote. "She has been like a mother to me since my first days in this industry and has given me more love, support, resources and advice than I could ever ask for."
"This weekend I did an Instagram Story for sleep vitamins that I've been taking because the brand helped me with security when the crowd around me at Coachella became unsafe," he continued. "I did not accept any money from this post."
Okay, so James Charles apologized and this is all over with?
Not at all! After James Charles apologized, a third beauty vlogger, named Gabriel Zamora, posted a YouTube video on May 4, calling Tati's behavior "fraudulent" and blaming her for videos "being made where James is being made out to be this horrible human being and I'm just confused as to what happened."
Then Tati Westbrook posted her own video, explaining her side of the story.
In a video titled "BYE SISTER," posted on May 10, Tati explained everything about the feud with James Charles from her perspective. According to Tati, she and her husband had invested a lot of energy and time into James Charles and his career. While James's video for Sugar Bear Hair did spark the fight between Tati and James, Tati insisted that her relationship with him had nothing to do with money.
"My relationship with James Charles is not transactional. I have not asked him for a penny. I have never been on his Instagram," she said. But it wasn't just the supplements that Tati had a problem with. She explained that she was tired of apologizing for James's behavior — which she alleged included everything from saying mean things about other beauty influencers to sexually harassing men who weren't interested in James.
Has James responded to the controversy?
On Saturday afternoon, James posted an eight-minute response video titled "tati," which so far has had over 24 million views. In the video, a makeup-free James delivered an apology to Tati and her husband. He also apologized for the way he spoke about other people on social media.
"A lot of the time when I've had to address things in the past, I've acted out of impulse and I've gone off and tried to pull receipts or facts or screenshots and play the victim and I'm not doing that today, I'm not," James said. "That is all I have to say, I'm sorry."
How have people reacted to the feud?
Based just on James's loss of subscribers, it seems that Tati has a lot of people coming to her side. James Charles already had a history of controversy. In 2017, he made an insensitive tweet about Africa and, in his apology for the tweet, called the continent a country.
But as CNN reported, he lost around 2 million followers since Tati posted the video. A video that tracks subscribers to each of their accounts shows that while James is losing followers, Tati is gaining them.
But for the most part, everyone used a feud between two wealthy vloggers to make a few jokes.
Others began destroying, artistically altering, or completely disposing of their James Charles Morphe makeup palettes on social media to show where they stand.
Tati responds.
The day after James posted his video, Tati tweeted that she would not be posting a video, and encouraged her followers not to "celebrate pain."
Enter: Jeffree Star.
As James's follower count continued to plummet over the weekend, makeup artist and beauty vlogger Jeffree Star weighed in with his own since-deleted tweet.
"There is a reason that Nathan banned James Charles from ever coming over to our home again," Jeffree tweeted. "There's a reason why I haven't seen him since @GlamLifeGuru's birthday in February. He is a danger to society. Everything Tati said is 100% true."
Hollywood Life also notes that Star responded to Charles's little brother, Ian Jeffrey. After Ian, 17, tweeted, "Why does everybody act so tough on the internet?" Jeffree retweeted the question and added, "Why is your brother a predator? Why'd you really have to move back up to NYC? Exactly. Shut the fuck up."
Though Jeffree deleted those tweets, he has also been tweeting his support to Tati for her rapidly rising follower count.
Which celebrities have unfollowed James?
According to Cosmopolitan, a lot. The entire Kardashian-Jenner clan — Kim, Khloe, Kourtney, Kris, Kendall, and even Kylie, who once collaborated with James on a YouTube video — have all unfollowed the disgraced vlogger, as have Demi Lovato, Ariana Grande, Miley Cyrus, Katy Perry, Shane Dawson, and Shawn Mendes.
And now … the receipts.
On Wednesday, James's friend and fellow beauty influencer, Nikita Dragun, jumped into the fray. She tweeted screenshots of texts James sent her during that fateful night at Coachella, which she says prove James's decision to boost a rival supplement was not premeditated, but a response to an emergency situation (being in the VIP area and "getting attacked").
So maybe that clears up … something?
Not so fast, though. Less than an hour later, as Cosmopolitan reported, the Twitter account of the YouTube channel Tea Spill tweeted their own screenshots of DMs James sent them claiming Sugar Bear Hair had reached out to him, and not the other way around. "sister lied to me," Tea Spill wrote, with a broken heart emoji.
Then, another Tati video.
On Thursday, Tati posted another video, this one a mere 18 minutes long, titled "Why I Did it … " in which she says that she is not back, but tearfully explains why she posted her first video. "It was me trying to reach someone that was completely unreachable," she says tearfully. "It's about someone who reaches, across all platforms, 30 million people that are predominantly children. He is losing the ability to get honest more and more each day. I'm losing the ability to reach [out to him]."
She also says that James has "zero respect" for their friendship, but that she does not want people to pile on.
"I do want the hate to stop. I want the picking sides and the abusive memes and the language, and all of that … I really hope on both sides it can stop. That's not why I made the video."
Also, this whole drama seems to have been predicted by a psychic.
Just when you thought this saga could not get anymore bizarre, another detail emerged to sever your last fraying grip on reality. A few days before the feud erupted, the YouTube psychic Ant reportedly pulled James's tarot cards, and predicted that he would have "a major falling out with a friend," someone "who he hasn't really had that much beef with before." Ant said James would be betrayed by "someone close to him, someone female" who is "maybe older than him," and "more savvy than he is."
What?
Indeed. Much like the disappearance of Amelia Earhart, or the escape of D.B. Cooper, I can only imagine the exact events of that warm April night at Coachella will likely be debated and speculated about by scholars for decades, or at least until the Earth roasts up, and all that's left behind are discarded bottles of hair supplements.