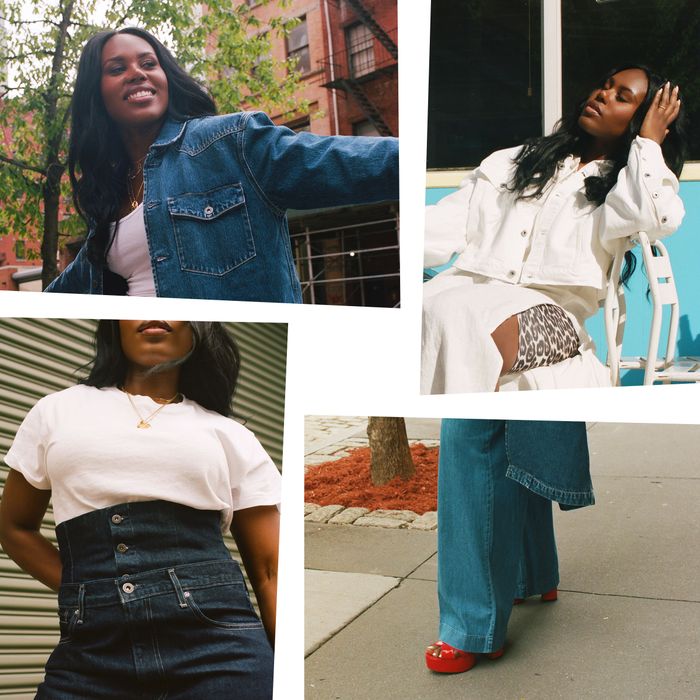 The paintings! The sculptures! The installations! Set on New York City's Randall's Island, Frieze is a playground for art connoisseurs. The art fair always takes over my Instagram feed in May, and this year I decided to check out what the fuss was all about for myself. More than 1,000 artists participated in the four-day event, which means there was lots to see and hear. But what to wear for long days on your feet, surrounded by thousands of discerning aesthetes? I figured you can't go wrong with denim. Scroll below to see what I wore to New York's biggest art festival.
Day 1
Arguably the hardest part about any first timer's trip to Frieze is getting there. In retrospect I probably should have worn sneakers, but luckily these heeled mules weren't too hard on my feet. I opted to keep things simple with a plain white tee and jeans — but these are fancy jeans that suck you in with a non-intimidating corset detail.
Day 2
Frieze is famously set in a huge white tent, but with so much water on all sides, being cold was pretty much inevitable. For an extra layer, I wore this sturdy denim trench over '70s-inspired voluminous chambray trousers for a touch of art-curator chic.
Day 3
These boots carried me through hours of trudging through dust and grass at Coachella, so I knew I could count on them for my third day of walking through the exhibitions. Even after a midday taco break, my white linen dress and denim jacket managed to remain unscathed by salsa.
Day 4
Wearing snakeskin and tie-dye at the same time might sound like trend overload, but if there's one time to go crazy, it's among a gaggle of artists. To break up the clashing prints, I toned it down with a modern day denim tuxedo.
Day 4, Part Two
As with any big festival, the day doesn't just end when the sun goes down: you can expect a full itinerary of after-parties during Frieze. Since I didn't want to spend the bulk of my day making outfit changes, I settled for a denim minidress with classic slingback heels. The dress was already cinched at the waist for an hourglass effect, but I decided to add a belt to heighten the sophistication.
While each product featured in this story is independently selected, it may include paid promotion or additional compensation from our partners.