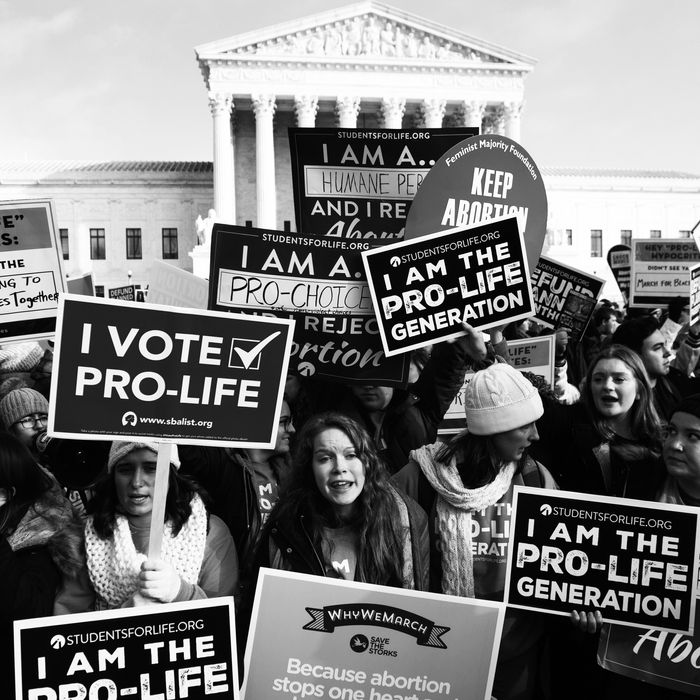 Ohio governor Mike DeWine.
Photo: SAUL LOEB/AFP/Getty Images
On the evening of May 30, Louisiana became the eighth state to sign into law a draconian bill outlawing all abortions after a so-called "fetal heartbeat" can be detected — long before most women even realize they're pregnant.
Anti-abortion groups refer to such bills as "heartbeat bills" because they ban all or most abortions once cardiac activity can be detected — which is usually at the embryonic stage, around five or six weeks. By design, they severely restrict the usual, legal threshold at which states can ban abortion, which is considered to be when a fetus is viable outside the womb (around 24 weeks). Such bills, in effect, prohibit nearly all abortions, because they leave women with such a small window in which to confirm they are pregnant, and then have the procedure done.
None of these laws have actually been enacted — they either haven't taken effect yet or have been blocked from taking effect by a judge, meaning that abortion after six weeks is still legal in all states. Still, they pose a legitimate threat: They are part of a larger effort to eventually overturn Roe at the level of the Supreme Court, and a growing push against women's reproductive rights in the United States.
Here is a closer look at what has happened with these bans in each state.
Louisiana
When is it set to take effect? The law will only take effect if the similar abortion ban in Mississippi, which was blocked by a judge on May 24, is upheld by a federal appeals court.
What legal challenges does it face? The bill, which Democratic Governor John Bel Edwards signed into law on May 30, and includes no exceptions for rape or incest, does not yet face any legal challenges of its own. But still, in a statement to CNN, Louisiana American Civil Liberties Union executive director Alanah Odoms Hebert said, "The ACLU of Louisiana and our partners are committed to making sure women in Louisiana and across the country have access to safe, legal abortion care."
Missouri
When is it set to take effect? August 28, 2019.
What legal challenges does it face? After Missouri passed the bill in mid-May, the ACLU indicated their intent to sue over the legislation, writing on Twitter, "Missouri's law will be stopped by the courts — just like Georgia, Ohio, Kentucky, Mississippi, and Alabama's. We all have a constitutional right to abortion and we will fight for it."
Missouri's bill, which bans abortion after eight weeks, does not include any exceptions for instances of rape, incest, or human trafficking; it does, however, allow for the procedure in cases of medical emergency.
The state is also facing another, more immediate threat to abortion rights: The possibility that its only remaining abortion clinic could stop providing the procedure as early as May 31. Per Planned Parenthood, the state's health department "is refusing to renew" its license unless doctors agree to follow a number of extreme regulations, such as providing medically unnecessary pelvic exams on their patients.
Georgia
When is it set to take effect? January 2020
What legal challenges does it face? The ACLU and the Center for Reproductive Rights have vowed to challenge it in court. (This past week, Netflix announced that it would "fight" the bill alongside the ACLU.)
In addition to banning abortions after six weeks, Georgia's HB481, or the Living Fairness and Equality (LIFE) Act, also redefines "natural persons," expanding the term to include "an unborn child." This new definition would potentially make women who receive abortions and doctors who administer them open to criminal prosecution — or, in other words, could make getting or providing an abortion punishable by life in prison.
In a statement following Kemp's signing on Tuesday, chief counsel at the Center for Reproductive Rights, Elisabeth Smith called the law "bafflingly unconstitutional," and added, "Bans like this have always been blocked by courts."
"We will be suing Georgia to make sure this law has the same fate."
Ohio
When is it set to take effect? July 2019
What legal challenges does it face? Shortly after the bill was signed, the ACLU announced it is filing a lawsuit challenging the bill.
Ohio's fetal heartbeat bill was shut down twice before, by former governor John Kasich. Ohio's current governor, however, Mike DeWine, signed it back in April, shortly after it passed the legislature.
"This legislation is blatantly unconstitutional and we will fight to the bitter end to ensure that this bill is permanently blocked," said Freda Levenson, legal director at the ACLU of Ohio.
Mississippi
Blocked (temporarily): On May 24, Judge Carlton Reeves temporarily blocked the ban from going into effect in July, writing in a preliminary injunction that the law "threatens immediate harm to women's rights, especially considering most women do not seek abortions services until after six weeks."
In March, immediately after Governor Phil Bryant signed into law the bill, reproductive-rights groups vowed to challenge the legislation. The legislation, which was set to go into effect on July 1, banned all abortions after a "heartbeat" could be detected; the only exception was if the mother's life was endangered.
Kentucky
Blocked (temporarily): Days before the Mississippi legislature passed their six-week abortion ban, the Kentucky legislature passed their own, which was signed into law by Kentucky's Republican governor Matt Bevin on Friday, March 15. The law was supposed to go into effect immediately, but the ACLU filed an immediate challenge, and Judge David J. Hale of the Western District of Kentucky ruled that the law was potentially unconstitutional, and prevented it from taking effect until he could hold a hearing.
Iowa
Blocked (permanently): In May 2018, Iowa lawmakers passed a bill banning most abortions after six weeks, except in cases of rape or incest. It was quickly struck down as unconstitutional. In his ruling, District Court Judge Michael Huppert wrote, "It is undisputed that such cardiac activity is detectable well in advance of the fetus becoming viable."
Republican state senator Rick Bertand of Sioux City told Reuters when the law first passed. "We created an opportunity to take a run at Roe v. Wade — 100 percent."
While the six-week abortion ban did not take effect, Iowa already has severe abortion restrictions in place, like requiring that the parents of a minor be notified before she obtains an abortion, forcing women to undergo ultrasounds before each abortion, and requiring the governor to personally approve each Medicaid-funded abortion, even in cases of life endangerment, rape, incest, or fetal anomaly.
North Dakota
Blocked (permanently): When it was enacted in 2013, North Dakota's "fetal heartbeat" law was the strictest abortion ban in the nation. It was blocked from taking effect by lower courts, and in 2016, the Supreme Court refused to review a lower court's ruling, thus blocking it permanently.
This post has been updated. We will continue to update it as more states continue their assault against the reproductive rights of women.