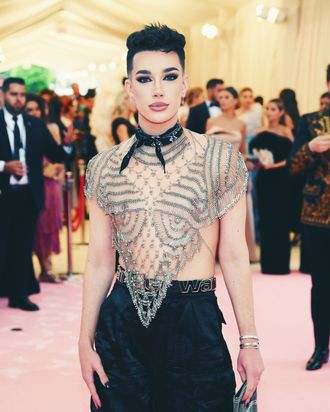 James Charles.
Photo: Neilson Barnard/Getty Images
Chances are if you have any kind of social-media account, you saw the name James Charles pop up this weekend. And if you're not a makeup artist or 14 years old, you may wonder who he is and why he's trending on Twitter. Lots of people were talking about Charles this weekend because he's in the middle of a high-profile fight with makeup artist Tati Westbrook. But before he was the subject of an epic YouTube feud, James Charles (not to be confused with Charles James) was a humble 19-year-old beauty vlogger with an estimated net worth of $12 million.
What Did James Charles Do to Tati Westbrook?
It's a long story. What you need to know is that, as of a few weeks ago, Westbrook was Charles's best friend. Then they had a fight over some gummy hair vitamins, leading Westbrook to post a 43-minute YouTube breakup video and Charles to respond with an 8-minute apology. The whole thing is causing Charles to hemorrhage followers. More on that here.
Wait. Back Up. He's Worth $12 Million?
Charles's breakthrough moment came when his high-school-yearbook picture went viral thanks to his very extra use of highlighter and a ring light. Celebrities like Zendaya endorsed it, and, not too long after, CoverGirl signed him as its first-ever male spokesmodel. He appeared on Ellen and even did Katy Perry's makeup. He collaborated on videos with Kylie Jenner and Kim Kardashian. In 2018, he won a People's Choice Award for Beauty Influencer of the Year.
Charles is a member of YouTube's unofficial Sister Squad, a friend group of other influential vloggers, which includes Emma Chamberlain and Ethan and Grayson Dolan. It was reported that their combined subscriber base was 30 million.
So He's a Big Deal?
Sort of. Charles has a big fan base. His first makeup product was an eye-shadow palette for Morphe; at a Toronto store appearance for the collaboration, a rumored 10,000 people showed up. The palette sold out. He's also famous enough that he has had to request that fans please stop coming by his home.
Charles went to the Met Gala this year wearing Alexander Wang. He posted an Instagram with a caption proclaiming that his invite was an important one for "influencer representation in the media." Which, yes, raised some eyebrows.
Before Westbrook posted her video consciously unfriending Charles, he had over 16 million YouTube subscribers. Now he's at around 13.7 million, though, as many livestreams are documenting, he's still losing followers.
Why Have I Heard His Name Before?
Beyond his vlogger success, he has also had a few problematic moments. In 2017, he made a bad joke about Africa and Ebola, then blocked people on Twitter who called him out about it. He issued a non-apology apology and kept his endorsement deal with CoverGirl.
He also called Ariana Grande "the rudest celebrity" he's ever met because she unfollowed him after his Ebola tweet.
So He's No Stranger to a Scandal?
No. He also has a history of making inappropriate, sometimes ignorant comments about sexuality. In October 2018, Charles commented on singer Shawn Mendes's livestream (in which he was juggling), saying, "Can you juggle me like that?" Mendes ended the stream, and some speculated this was due to Charles's comment. Charles tweeted at Mendes to apologize, and the singer wrote, "Your comments actually make me laugh and i love them!"
A few months later, in a video with Jeff Wittek (another YouTuber), Charles claimed to be a 5.5 on the Kinsey Scale (a spectrum of sexual identity in which 0 is exclusively heterosexual and 6 is exclusively homosexual). Wittek said, "So you're not even full gay," and James said no, explaining that he has been with girls and trans men in the past, implying that trans men are not real men. Charles apologized on Twitter, saying he "should've chosen my words wiser."
Westbrook alleged that Charles has a pattern of making advances on men who identify as straight. In her video, she said, "You tried to trick a straight man into thinking he's gay, yet again, and somehow you're the victim … You're using your fame, your power, and your money to play with people's emotions." Westbrook also alleged that, at her birthday dinner, Charles had been talking about the sex acts he wanted to perform with a waiter and about how the man's sexuality didn't matter because "I'm a celebrity." Jeffree Star, another makeup artist, tweeted then deleted that "[Charles] is a danger to society. Everything Tati said is 100% true." So while Westbrook and Charles's fight was mostly about hair-care gummies, it's clear that Charles's comments were top of mind for Westbrook too.
In his apology, Charles said, "I've learned the hard way about ways that I can interact with boys that I'm interested in and also that I should or shouldn't be talking to."
Will His Career Survive This?
Since he posted his reply to Tati, Charles has been silent on social media. He said in the video that he was traveling, so he'll probably lie low for a while. As of now, he still has his deal with Morphe Cosmetics, but many celebrities he has worked with professionally have unfollowed him, including the Kardashian-Jenners, Demi Lovato, and YouTube-star BFFs like Chamberlain, Star, and Shane "I Didn't Come on My Cat" Dawson. So he'll probably be vlogger non grata for a bit.