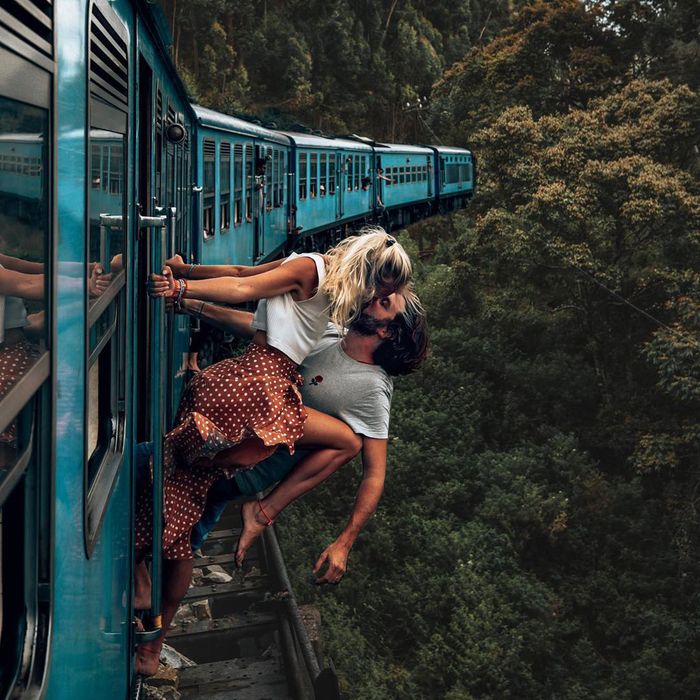 Photo: backpackdiariez/Instagram
From the bowels of Tumblr tags and scrapbooked pages of REI catalogues, Travel Instagram couples were born. Over the years, this niche group of influencers has evolved, no longer relying on that one pose where the girl walks ahead, leading her camera-toting boyfriend by the arm to beautiful vistas. Now, some of them are capturing their #wanderlust in photos that seem, objectively, incredibly dangerous.
Case in point: numerous pictures taken in Sri Lanka, which feature toned, tanned couples leaning precariously out the side of a train as it makes its way over a steep ravine. A few months ago, a couple known as Explorerssaurus_ became the object of the internet's ire for their version of the pose, and in early May the pair known as BackpackDiariez attracted criticism for their rendition, which looked even more dangerous. (They leaned into it more.)
"Are you really ready to die for a pic????????" demanded one commenter.
Looking at the photo, it's easy to understand the concern. The woman in the photo, Camille, is gripping the hand rails as she wraps one leg around her boyfriend, Jean — who is only holding on to the train with one hand. The pair is exchanging what seems like a passionate kiss, which they called one of their "wildest." But beyond questions of safety and motivation, I was left wondering about a more technical aspect of the photo: Who is taking these very dangerous, very horny photos?
In an email to the Cut, Camille explained that they use a self-timer for most of the photos on their Instagram, but this setup, being more complicated, required a third person — Jean's brother, who was traveling with them — and a bit of advanced planning.
"This train ride is very famous in Sri Lanka, and we had seen many pictures on social media of people hanging out of the doors, so we knew we wanted to try this and prepared for it in advance," Camille wrote. "We did some research to find out what the best time of the day would be to take it, what side of the train has better views, what colour the train would be, etc." It took an hour and 500 photos to get the shot in question, she added — which is honestly very nice of Jean's brother.
Raquel and Miguel of Explorerssaurus_ required a separate photographer as well. However, they weren't lucky enough to be traveling with a cooperative family member. Instead, they found a random tourist also enjoying the train.
"We had to ask a stranger. The guy was from Australia, I remember that," Raquel explained via Instagram voice note. "And I was posing at the door, and Miguel was explaining how we wanted the picture."
Again, the photo was not taken quickly.
"The first time he shot the pictures and I checked them, and I didn't like them that much. So I explained again how we wanted them, the angle, how we wanted them and so on," Raquel said. "And finally, we managed to get that one. But that photo still has Photoshop. Because we didn't like completely his angles, we merged two photos together."
Clearly, getting the perfect pic for the 'gram is not a simple process and, Camille insists, not an unsafe one. When asked about the danger, she emphasized that leaning out of a moving train while straddling her boyfriend was "not dangerous" in the moment. "When we took the picture, the train was moving at a walking speed and the edge was not deep at all," she said. "We would never risk our lives or our health to get a good picture. We care too much for each other for that."
Pictures can be deceiving, I suppose.