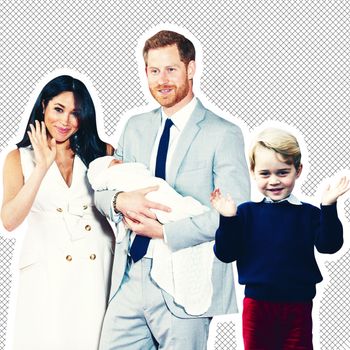 Photo: Getty Images, Shutterstock
WARNING: This is very spooky.
As we now know, Meghan Markle and Prince Harry named their baby Archie Harrison Mountbatten-Windsor. What they might name the small royal had been the subject of debate and betting since Markle announced her pregnancy in October. Buckingham Palace was tight-lipped about the name until today, though — it was a mystery; an unknown fact waiting to be revealed in time.
— Or was it?
As you might recall, back in January of this year, Prince George, the eldest child of Prince William, Duke of Cambridge, and Catherine, Duchess of Cambridge, reportedly met a woman with a dog. What might have been a story only interesting to that woman (and a small source of annoyance for all of her acquaintances ["Have I told you about the time Prince George petted my dog?"]), instead became a matter of international intrigue. According to The Sun, when the woman asked Prince George what his name was, the young man told her:
"I'm called Archie."
What? Truly — what??????? At the time, we at the Cut attempted to guess why Prince George might tell this woman his name was Archie, but it is clear now that we did not have all of the information necessary to make our hypothesis. Now we can try again. Why would Prince George call himself Archie? And why is there, now, a real royal Archie? Our guesses are below.
Prince George Was Told the Name in Advance
This seems like a possibility. Maybe Meghan Markle and Prince Harry decided on the name many months ago and told Prince George, perhaps to appease him during some sort of tantrum. We'll tell you the name of your new little cousin if you stay very quiet, okay? It seems like information a member of the royal family shouldn't trust a child with and, indeed, it was.
Demonic Intervention
It seems like a possibility to me that the royal family was being harassed by some sort of demon. To appease the demon, they had to give the demon's name (Archie) to one of their children. William and Kate thought they could maybe just give the name as a nickname to Prince George, but that didn't work. So then Meghan and Harry had to name their kid Archie for real.
A Magical Creature Got the Wrong Address
Maybe the royals have a set of magical creatures who visit new royal children and tell them their names? It seems like it could be true. The magical creature was meant to visit the fetus now known as Archie but visited, instead, Prince George. It told him, "Your name is Archie." So he was like uhh … I guess my name is Archie?
Prince George Is Psychic
This one is a little less out there. Prince George is psychic and he sensed Archie would be an important name (though he maybe didn't know why). Being somewhat jealous, he decided to take it for himself. Sorry, bud. That's Archie's name. Your name is George.
Prince George Got to Choose the Name and He Likes Either Riverdale or Gossip Girl or the Band Alvvays
Maybe Meghan Markle and Prince Harry let Prince George pick the name as a treat, or because of some royal rule. And maybe he likes Riverdale or Gossip Girl? And maybe that's also why he was calling himself Archie?
Or maybe he likes the band Alvvays? And that is why he was calling himself Archie?
That song does rule …
Every Royal Is Secretly Named Archie and Meghan Markle Wants to Break the Curse
It might be true that, behind closed gates, every royal is secretly called Archie. Prince Archie, Queen Archie, etc. And maybe Prince George got in trouble for letting the secret slip in January. And maybe, if this is true, when Meghan Markle heard about it she was like … that seems fucked up. And maybe she was like, I'm gonna name my kid Archie for real, so maybe everybody will stop having to be called Archie secretly. It's possible.
If you know Meghan Markle and can ask her why Prince George called himself Archie in January, please let us know!