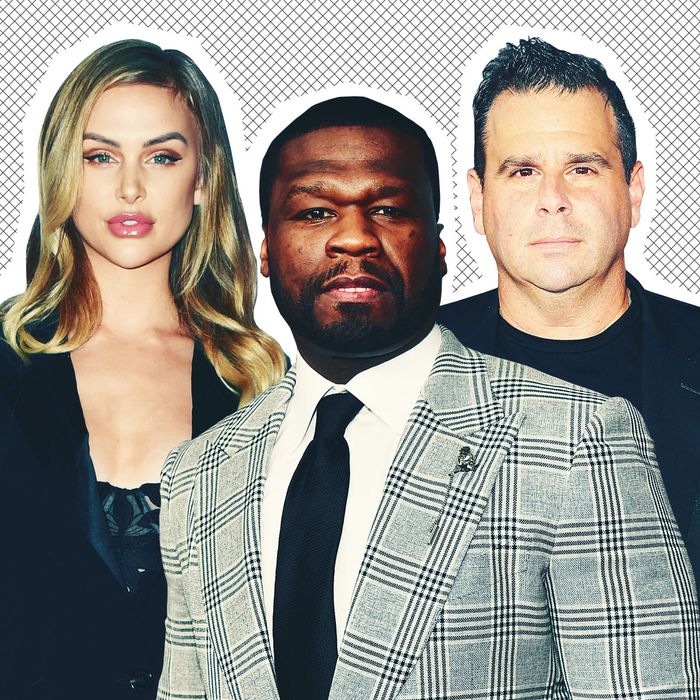 50 Cent is publicly feuding with Vanderpump Rules star Lala Kent and her Hollywood producer fiancé Randall Emmett. The feud, allegedly over a million-dollar loan, is playing out almost entirely on Instagram and now involves Chrissy Teigen. As they say: You know it is our time, these are the best days of our lives. But what is happening, and how, and what??, and why? Let's see.
WHAT IS HAPPENING?
50 Cent alleges that Randall Emmett, his former Power co-producer, owes him a million dollars, which he'd given him as a loan. Tired of Randall Emmett not repaying him his million dollars, 50 Cent took to Instagram to publicly troll him, telling him he has until Monday, April 29, to pay him back in full.
WHO IS RANDALL EMMETT?
He's a producer who got his start as Mark Wahlberg's assistant, and who was allegedly the inspiration for Entourage's "Turtle" character. (The Turtle part is not particularly relevant to this explainer, but it is a fact that I personally love.) Now he is most famously Vanderpump Rules star Lala Kent's "man," first showing up on the show in veiled terms, which is rumored to be due to his relationship status at the time with his now-ex-wife, You star Ambyr Childers. He and Lala are now engaged to be married.
HOW DID THE FIGHT START?
On Friday, April 26, Fifty posted a clip from the current season of Vanderpump Rules wherein Lala explains how she and Randall met. It involved him asking her to audition for a movie. "I let him hit it the first time and we were inseparable," she said. "He would just send me, like, really expensive gifts. The first night we banged, I got a car the next day. He was like, 'Do you want a Range Rover?'"
To accompany the clip, Fifty wrote, "10 seconds left in the 4 quarter hoe's are Winning. Do you want A range rover, yes, bitch yassss. Then just run out and suck a dick. LOL smh."
To be fair, even when Randall's identity was a secret on Vanderpump Rules, Lala was not shy about the somewhat transactional nature of their relationship. ("I'm suckin' dick for a lot more than a Range Rover, honey," she said multiple times in season five.)
Lala responded in the comments, writing, "She swears she's a thug from south side Jamaica queens & she's up in here watching Bravo. Someone has forgotten where they come from. Coming for me on the gram!? I smell fish coming from fifty's direction."
DID JAMES KENNEDY ALSO RESPOND IN THE COMMENTS?
Yes, Lala's Vanderpump Rules sometimes-nemesis DJ James Kennedy commented, "IM DEAD ☠️☠️☠️☠️😂😂😂."
AND THEN WHAT?
Then it got really good. 50 Cent posted a screenshot of texts allegedly from Randall, pleading with him to stop the public feud, mistakenly calling him "fofty," which is so funny, and saying he was headed to the hospital with chest pains. "Fuck you @Randallemmettfilms you think I wouldn't find out, you and your little hoe girl friend talk to us weekly," Fifty (Fofty) wrote. "I want the rest of my money Monday."
Then 50 Cent posted another text message screenshot that, again, included Randall calling him "fofty." In the comment attached to the screenshot, Fofty claimed Randall had paid him $250,000 but that he wanted payment in full by Monday.
HOW WAS #METOO INVOKED?
In the comments of 50 Cent's first Instagram post, the Vanderpump Rules clip, Fifty added the comment: "ME TOO ROLE PLAY: Are you a actress 😟 come to my hotel and act like you really want the role, then suck a dick No good Randall No good."
Lala Kent took to her own Instagram to respond to this comment. "Fifty took a clip of me talking about what I do behind closed doors with my fiance, and used it to diminish the validity of the #metoo movement," she said. "That I will not stand for." She deleted the video, but not before Fifty grabbed it to mock on his own Instagram.
"Hey how is the Range Rover?," he wrote. "There's no difference between Harvey Weinstein and Randel Emmett! This is reality, not reality TV. Bravo Bitch @bravo." Yikes!!!!!!!!!!!!!!!!!!
(For what it's worth, @bravo is not the account of the channel on which Vanderpump Rules airs. It is the account of some guy named Joey Bravo. I don't know who he is, but he commented, "Im sorry 50…")
AND THEN WHAT?
Fifty (Fofty) just continued to troll them. He posted Instagrams mocking Randall's supposed chest pains, and screenshots of Randall's Wikipedia page, which briefly read, "He owes 50 cent (aka Fofty) a million by Monday or else .He's faked a heart attack to get out of it thus far."
Fofty also posted a Game of Thrones meme, writing, "MONDAY IS COMING." Additionally, he posted a Family Guy clip.
The feud has apparently (and rightfully) spurred Reddit memes. I do not personally know how to find Reddit memes, though I have to imagine it isn't difficult. But BuzzFeed's Katie Notopoulos does know how to find them.
HOW IS CHRISSY TEIGEN INVOLVED?
In response to the feud, Chrissy Teigen tweeted, "I never want 50 Cent to be mad at me," and "please love me, fofty." Fofty posted screenshots of those tweets to his Instagram writing. "😏I love you @chrissyteigen& john, these people just keep trying me."
IT'S MONDAY NOW.
I know.
WHAT'S GOING TO HAPPEN?
We'll see!
IS THERE AN UPDATE?
Yes! At 1:47 p.m. on Monday, April 29, 50 Cent posted a text message screenshot to Instagram and Twitter. "Have an idea can u call me ?" wrote, allegedly, Randall Emmett. "Fif I agree to all the terms can u please Stop posting. Money will be there in the am."
"You made this fucking mess, when the money hits the accounts everything comes down," Fifty (Fofty) responded. "Ok I just got the wire asshole, Back to my regular scheduled program."
Indeed, Fofty deleted his previous Instagram posts, which is why they are now replaced with tweets in this post. He also deleted the final post, which called an end to a feud. He did not yet, however, delete the tweet.
WHAT'S GOING ON WITH THEDIRTY.COM?
According to "Page Six," TheDirty.com owner Nik Richie filed a trademark for "Fofty" merchandise on Monday, planning to make t-shirts, mugs, and other "Fofty" stuff that I personally don't expect anyone will want after this week, no offense. The trademark also enables him to take over the "Fofty" Instagram handle.
Again according to "Page Six," he is using that handle to attempt to get celebrities … to share videos of some sort … and this will in some way raise money for charity (he is aiming for a million dollars), which he will give to a charity of Lala Kent's choosing. Okay, man.
This post has been updated.