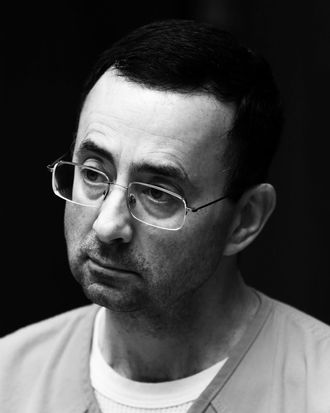 Photo: AFP Contributor/AFP/Getty Images
At first, it looks like any other visit to the doctor.
Emily Morales, about 11 years old, smiles as a physician leads her through a series of poses, her thick blonde hair tied back in a ponytail. The young gymnast, clad in an Aeropostale T-shirt and baggy shorts, raises her arms in the air and bends at her waist per the man's instructions, with the willowy precision her sport demands. The perspective on the appointment is her mother's, who sits in a chair nearby, filming the exercises on a smartphone so that they can be shared with her coach. Recording and posting such material online wasn't an unusual practice back in 2011, nor is it today.
The doctor, seated on a wheeled stool, explains that Morales has some scoliosis and that she's tight in her shoulders, her hips, her IT band, as he touches her arms, stomach, and back.
He lifts up her shirt and — with bare hands at the top of her rib cage and upper back — positions her further. He repeatedly pokes her butt while she planks. He asks her to lay down and places his hand on her lower back. He tucks his ungloved hands into the waistline of her shorts.
The man in the video is Larry Nassar, who in 2018, was sentenced to 40 to 175 years in prison on sexual-assault charges. Emily Morales went on to have several appointments with Nassar after this one. In 2018 she was one of the hundreds of women who came forward to describe the abuse she suffered from him.
I discovered this video, which Morales's mother uploaded to YouTube in 2011, in late March while looking for a beam routine as part of my ongoing reporting on the Nassar case for a forthcoming audio series. It was shocking to see the video still available on YouTube, well over a year after Nassar was convicted of sexual assault of minors. This, after roughly 500 women came forward to say they were abused by Nassar through his decades of work with USA Gymnastics, Michigan State University, or other institutions through which he had unfettered access to children.
Prior to his sexual-assault convictions, in July 2017, Nassar pleaded guilty to child pornography charges after 37,000 incriminating files were found on his external hard drives. Given the public attention the Nassar assault case received and the backdrop of criticism of executives at Facebook, YouTube, and other sites have faced for prioritizing clicks over caution with content, this video underscores the challenge that abuse survivors face in having the digital evidence of their sexual abuse scrubbed. And not just on the dark web, but on one of the biggest platforms on the planet.
Upon finding the video, my colleague Rachel Hamburg and I promptly reached out to our supervisor and then to Morales, who is now 19 years old. She told me that she first found the video last year when she was searching for her impact statement, in which she confronted Nassar in court about his abuse.
"All those red lights went off," Morales said of finding the video then. "I remember calling my mom and saying, 'I found this video.' I was bawling. I felt like I went through it all again.'"
She asked her mother to delete the video from her public account, but her mother "isn't the most tech savvy person," and years later, her login information was gone. Reporting it seemed too daunting, especially as she was trying to balance her own therapy and healing with trying to avoid the onslaught of news about the case.
"At that age, it felt like no big deal," Morales said of watching her 11-year-old self. "But at 19, I look at it and I'm like, He never took his hands off of me. There was no attempt to minimize physical contact. I'm able to come back at it now with the lens of, 'I was abused.'"
For decades, Nassar wielded video and still cameras. He posted demonstrations of physical therapy techniques on his Facebook page and on his website, GymnasticsDoctor.com, often using his real patients as models. They are uncomfortable to watch — Nassar performing gluteal massages on little girls and twisting legs and arms into odd positions.
"It's absolutely evidence of his grooming," Morales told me, noting that part of how Nassar gained access to children was by joking around during appointments and normalizing excessive touching without asking for consent.
Then, there was the explicit child pornography he produced on his own. At least one of these videos, according to court records, takes place in a swimming pool and indisputably demonstrates that Nassar was sexually abusing children well beyond any realm of medical context.
Morales, who is a clearly identifiable minor in the video on YouTube, asked that I report the video as inappropriate since her mother was unable to remove it on her own. On Wednesday, April 3, I flagged the video to YouTube as child abuse and identified myself as a journalist by first and last name and provided my contact information. I explained that Nassar is a convicted child molester and that the individual in the video has since identified herself in court as a survivor of his abuse.
Twenty-four hours later, the video still was online and viewable. I had not received any response, so I flagged the message and requested that it be pulled again. Another 24 hours passed. I flagged the message a third time.
A weekend came and went. I still hadn't heard anything from YouTube. Several days and three complaint attempts later, the video was still up. I updated Morales, then reported it a fourth time. She, too, flagged the video herself. "I am the girl in this video," she wrote to YouTube, "and the person who posted it is my mother. Dr. Nassar sexually abused me at these appointments and I would sincerely like this video to be taken down."
A day passed and the video was still up. All told, five separate complaints had been made about it. Ultimately, Morales and her mother were able to track down the original password from eight years prior and pull the video down themselves.
When Morales pulled up the video, she noted that it had more than 15,000 views. "That's 15,000 people who have seen me abused," she said.
When I finally reached YouTube for comment on why the video remained online after five requests to have it removed, a spokesperson declined to answer specific questions about the Morales video or attempts to have it pulled. The spokesperson did share that Nassar's YouTube account was terminated in January 2018.
The company has said it has bolstered its child-safety protocols and that the company uses "thousands" of human reviewers and partners with child-abuse prevention organizations. But they did not specify if YouTube proactively removes content from high-profile cases or publicly available sex-offender databases.
Struggles like Morales's may not be uncommon. In 2018 alone the National Center for Missing & Exploited Children's Cyber Tipline received 18.4 million tips tied to alleged child sexual-abuse images and sent more than 271,000 tips to electronic service providers about questionable content. In 2009, the U.S. Department of Justice joined with several international law-enforcement agencies in Operation Delego, which resulted in more than 70 charges tied to internet crimes against children two years later. And YouTube is no stranger to criticism for not doing enough to protect minors. The company changed its policies in 2017 to address "Elsagate," in which disturbing content was being recommended to children. In February, YouTuber Matt Watson posted a video, which received 3.5 million views, detailing how the company's algorithm was promoting child pornography and in some cases monetizing it.
"We talk about this every day," Lauren Coffren, the director of the NCMEC's exploited children's division said of child-abuse content that continues to live online. "We've got to be able to make this better for the victims and survivors because it's a retraumatization. What is the worst day of some children's lives becomes memorialized and I can't think of any other crime like it where it repeats over and over and over. It's never totally in the past. How do you expect someone to be able to move on and move forward when you have a constant fear of the most intimate or devastating day of your life possibly available for everyone to see?"
In the Nassar case, Morales is not alone; several survivors are grappling with the unknown digital trails of their abuse. In her complaint against Nassar, Michigan State University, and the U.S. Olympic Committee, Olympic gold medalist McKayla Maroney mentions that in addition to the serial sexual abuse she suffered from Nassar that he "continuously, obsessively, and compulsively" photographed her and "she believes photographs were taken of her while Nassar was sexually abusing her under the guise of treatment" and that "these photographs were shared by Nassar with other pedophiles for their sexual gratification." Maroney "continues to worry, distress, experience concern, anxiety, and depression over whether Nassar's photographs of her are still circulating through the internet, and whether they are possessed by other pedophiles and sexual deviants, and whether she will ever know how widely these photographs have been shared or whether they will eventually surface later in her lifetime."
Similarly, Melody Van Der Veen, another Nassar survivor, told me in an interview that when she asked the FBI what the status was of images she believed Nassar had taken of her, an agent told her that there were so many children in the Nassar files, they didn't even know where to start identifying additional victims, let alone removing the content from online. (The Department of Justice Office of the Inspector General is conducting its own investigation of the FBI's role in the Nassar case.) An FBI spokeswoman declined to comment.
In addition to using Facebook and Instagram to share homemade footage, Nassar also relied on the platforms to present a public persona of the goofy Midwestern dad, and to privately message children as a form of grooming behavior. In addition to scheduling "appointments," Nassar also sent girls messages laden with compliments and wishes for successful competitions, but also missives that were sexually charged and inappropriate in nature. National team member Maggie Nichols complained in 2015 to USA Gymnastics coaches that Nassar's messages to her made her uncomfortable and Argentine gymnast Ayelén Tarabini has released her messages from Nassar, messages in which he mentioned her smile, sent her gifts, and tried to get her to come train at Karolyi Ranch.
A Facebook spokeswoman said that the company doesn't "typically comment on individual cases." She said that registered and convicted sex offenders "are prohibited from maintaining a presence on our platforms." For the bulk of his life as an abuser, however, Nassar was not a registered sex offender.
There were some who had their suspicions about his behavior though. When Amanda Thomashow filed a Title IX complaint against Nassar in 2014, reporting abuse during her appointment at Michigan State University, Dr. Jeffrey R. Kovan, team doctor for the basketball, soccer, track, and softball teams, and formerly the medical school's director of sports medicine, asked to meet with her about her claim.
She told me that during this meeting, Thomashow said, Kovan inadvertently revealed something alarming: Nassar's Facebook account had recently been closed down, he told her, because Facebook "thought he was a predator based on how many underage followers and friends he had," Thomashow recalled. Kovan "kind of joked with me about it. And was like, 'Oh yeah, even Facebook gets the wrong idea about him sometimes.'"
She added, "And I was like, 'Wow — [Larry] sounds like a predator.'"
Nassar's original profile was disbanded in 2011, according to people familiar with the matter. But after that, he was able to set up two more Facebook profiles and an Instagram profile, according to these people.
Kovan is still employed at MSU today. Through an MSU spokeswoman, Kovan declined to comment.
In the years I've spent interviewing women tied to the Nassar case, a theme has emerged: all levels of the system had failed them. There's a myth that no one said anything and to be sure, many stayed silent, but for years, many people did speak up. Nothing happened, off or online.
It hasn't been an easy road for those in the Nassar case, many of whom are living out their traumas and recovering in a very public manner. But that publicity also prompted something finally being done to stop Larry Nassar. If the women in that case can't get footage of their abuse pulled, what hope is there for anyone else?
There's an inherently cold bureaucracy to the Sisyphean task of policing the darkest recesses of the internet. I don't envy the task of YouTube, Facebook, or other companies in having to be arbiters of what should or shouldn't be published on their platforms. Yet digital residue of traumatic experiences like Morales's and those of other Nassar survivors may be one of society's new, harsher, more Orwellian realities.
Morales cautions parents and coaches posting videos of their children and to think about the effect it could have in the future. She is heading back to college to study exercise science and she wants to get back into gymnastics, this time as a coach.
"I always want my gymnasts to know that I don't just care about them as a gymnast," Morales told me. "I don't just care if toes are pointed and legs are straight, but that someone is happy and taken care of."
The Center for Missing & Exploited Children's 24-Hour Tipline is 1-800-THE-LOST or accessible online at missingkids.com.
Twisted: The Story of Larry Nassar and the Women Who Took Him Down, Mary Pilon and Carla Correa's Audible investigation into the Larry Nassar case, will be available on Audible in July.