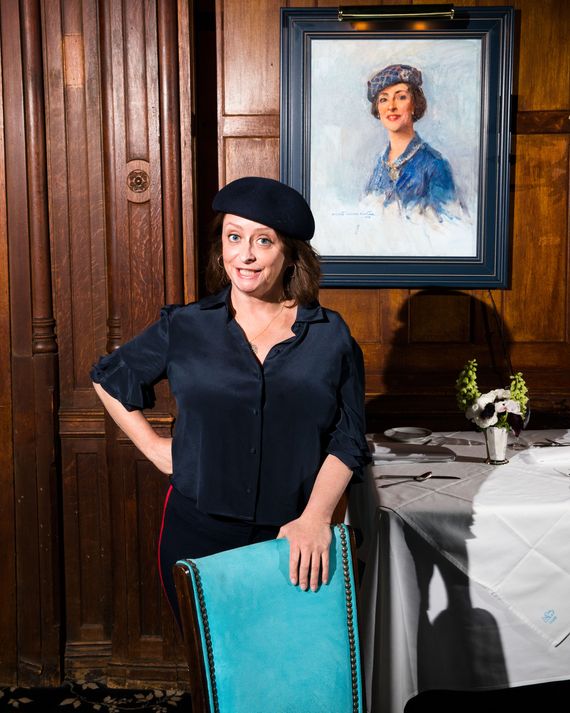 Rachel Dratch and I are supposed to be having a leisurely ladies' day out, but as is often the case when you're trying to have scheduled fun, things aren't quite going as planned. Our pedicures have run late, so we've been forced to jam our wet toenails into our socks and then jog six blocks to our lunch reservation, just as it starts to pour. Still, Dratch is doing her best to remain zen about things. "Just write: She was very breezy, she didn't even mind the rain," she says, deftly navigating puddles with a bemused what can ya do? expression on her face.
Dratch is a girls'-trip veteran, which might explain why she so gamely obliges me on my forced march of activities. The affable and soft-spoken 53-year-old comedian has plenty of experience dealing with type-A planners, like her close friend Amy Poehler. "Planning is her love language. She's always like, stop me from being too Virgo about this!" says Dratch (who self-identifies as a "typical" sensitive, intuitive, and indecisive Pisces). Their dynamic is immortalized in a new Netflix comedy called Wine Country, in which Dratch stars alongside her SNL alum pals Poehler, Maya Rudolph, Tina Fey, Ana Gasteyer, Paula Pell, and Emily Spivey. Inspired by a real-life trip to California wine country that they took for Dratch's 50th birthday, her character is the calm center amid a sea of craziness, fruitlessly attempting to stop her friends from making a big deal out of her birthday, which each is using as an outlet for their own concerns and anxieties.
The straight woman role is an unusual fit given Dratch's track record as an offbeat character actor, but it makes sense once you spend some time with her. In the past few years, she's gotten pretty good at going with the flow. Settled into our pedicure chairs, she says serenely, "Things kind of float up to me. I just kind of zen out down the river and then things appear."
Watching Wine Country, particularly if you were an SNL fan in the early 2000s, feels like being reunited with a group of old friends. "The fact that it's Netflix and it's people who have already been in your living room makes it like comfort food. It's the ladies! It's like you're going on a vacation with us," Dratch says.
The film follows a well-worn girls'-trip-movie premise: longtime friends reunite in an idyllic place, wherein booze and close quarters lead old resentments to bubble the surface. True to form, each woman arrives at the Napa Airbnb with her own set of semi-autobiographical hang-ups. Poehler's Abby is sublimating her professional anxiety into micromanaging her friends' schedules, Rudolph's frazzled mom Naomi is beset by secret health worries, and Dratch's Rebecca isn't quite as breezy about turning 50 as she initially seems. "I love Naomi's idea of just hanging out, drinking wine, talking, connecting," says Rebecca early on in the trip, to which uptight Abby responds, "Yes, totally! We are going to do all of that, all of that is baked into the itinerary … but first on the docket, unpack and unwind for 20 minutes. Set your alarms."
Amid a relatively formulaic plot, it's the small moments between the cast that feel the most lived-in, whether that's kvetching about each other's annoying habits or affirming each other through shared cultural references ("remember how Prince would throw up his guitar in the air and his guitar tech would always catch his guitar after a mind-blowing solo?" says Spivey's Jenny to a tearful Naomi during a drunken hot-tub chill: "I'm that person for you … I'll catch your guitar"). In its more introspective moments, the film also captures the blend of nostalgia, fear, and drive for self-actualization that settles in at midlife. In one of the best scenes, a misanthropic tarot card reader (Cherry Jones) plays on the group's insecurities, offering dire prognostications like "the upside-down chariot tells me you are being dragged through time, with no control over where life is taking you" and "from one old lady to another, get over all your shit, because it is later than you think."
Some configuration of this SNL cast friendship has already become part of Hollywood lore; Fey, Poehler, and Rudolph are global celebrities, whose real-life camaraderie has been canonized through high-profile presenting gigs, like when they opened this year's "hostless" Oscar ceremony. But while Dratch has known Fey and Poehler since their Second City Chicago days, she never quite made it across that shaky suspension bridge from SNL to superstardom in the same way as her colleagues. In the past this led some onlookers to profess concern for her, which she wishes they wouldn't. "Things are happening, and I know things are happening, but since I'm not starring on a show the rest of the world is saying: Oh, we miss you, what happened? It's like — I'm good," she says with a laugh, before referencing the absurdity being forced to unburden her soul while getting dead skin aggressively scrubbed off her feet: "Now put your feet in a bowl and talk about yourself!"
Of course, most SNL cast members don't go on to instant megastardom — even those who create characters as iconic as the human buzzkill Debbie Downer. Yet few have had their post-show trajectories dissected as publicly — and at times, as cruelly — as Dratch. Just as some of her closest girlfriends were being anointed as comedy's new vanguard, Dratch found her career setbacks being packaged into a particularly unpleasant media narrative. In 2006, she was cast as Jenna on Tina Fey's new show 30 Rock. After the pilot, she was recast and given a series of smaller roles, which were eventually written off the show. The version of events that people latched on to — that Fey had fired her close friend and replaced her with a more conventionally attractive actress — became tabloid fodder, and a depiction that Dratch couldn't shake. "I think if I'd gone on to do this and that, people would have said, oh well. But since I didn't, it felt like there was this temporary stigma around it," she says. While she and Fey never really had a heart-to-heart about what happened, they remain close. She points out that Fey had already been her boss on SNL and that they were already used to separating business and friendship.
The period after 30 Rock was tough for Dratch. She had moved, suddenly, from the relatively egalitarian world of sketch comedy, where one of her most iconic characters was a lewd, ancient film producer named Abe Scheinwald, to Hollywood, in which even dowdy friend roles were going to women of Rashida Jones–level hotness. "I really don't know why literally every audition opportunity that came my way had an insult within the description," she said of the parts she was offered. In 2011, she wrote a memoir called Girl Walks Into a Bar, where she gamely riffed on this aspect of her career trajectory, and the fact she was offered only parts she referred to as the "unfuckables." What she'd hoped would offer a lighthearted take on the way Hollywood had pigeonholed her instead became fodder for offensive think pieces dissecting how Dratch's appearance may have impacted her career. Reading some of that media coverage, she says, was her low point, and she thought about quitting acting to become a psychologist. "It crossed my mind, just like: Screw all this. I think I probably started to assume that must be what I look like, and if I'm getting these messages, maybe there's something to that."
While that may have been the media narrative that was imposed on Dratch half a decade ago, it's not her story, and she's understandably reluctant to give it any more airtime. "I don't want to feed the beast," she says. Though one could hold up her experience as a particularly egregious example of the sort of sexist Hollywood double standards that the feminist movement has recently been fighting against, that has never really been Dratch's way of seeing the world, in art or in life. "I don't really set out to do feminist comedy," she acknowledges. She describes her favorite type of humor as "when you're in a play and it's that thing where you turn your head one inch this way, you get the laugh, and if you don't, you get nothing." Plus, at some point, everything shifted, and the offensive character descriptions faded from view. "Now I'm back to playing the parts I thought I'd be playing, just being a character actor," she says.
In the past five years, Dratch has carved out a comfortable space for herself as an actor and comic, with recurring spots on hit shows like Broad City, Bob's Burgers, and Last Week Tonight With John Oliver; roles in films like Little; solo ventures including a 2016-18 TruTV sketch series called Rachel Dratch's Late Night Snack; and occasional returns to her old SNL stomping grounds (most recently, she guested as Minnesota senator Amy Klobuchar). But the less public part of her journey is, in her telling, far more significant.
Through her 30s, Dratch knew she wanted kids, but she wasn't much good at dating, and she had never thought she could have a kid on her own. Then, at age 43, she got pregnant with a man she had met in a bar. Everything changed when, in 2010, her son Eli was born. Dratch and Eli's father are not a couple, but they continue to co-parent and he lives in an apartment close by. Having a kid totally refocused her career priorities and her values, while quashing the previous decade of "single lady panic" about not having found a partner to settle down with. "Having a kid killed all that for me, in a good way for my emotional well-being," she says. Now, she devotes much of her time to being a hands-on parent, an opportunity she still can't believe she got to have. "SNL was like the dream job, and that was such a crazy goal of mine, but then along came this other crazy goal which blindsided me," she says. "So for me, my suburban mom life is maybe a little more thrilling than it would be for someone else who was always on that path, and knew they were on that path."
Thus far, she says, Eli seems to share her performer's genes. "I'll walk down the street and he'll be like, 'Hey, it's Debbie Downer!' He pimps me out."
While motherhood may have knocked dating and work lower down Dratch's list of priorities, her friendships continue to remain a huge part of her life. She credits late motherhood for her girls'-trip expertise, and tells me that having more free time than her peers meant she became skilled at coordinating regular vacations around the world with her many groups of female friends. Wine Country, written by former SNL writers Spivey and Liz Cackowski and helmed by Poehler in her first directorial outing, pulls from past trips together; they really did have an unpleasant tarot-card-reading session with a grouchy psychic, and Paula Pell really did once bring vibrators as party favors. Just like in a scene from the film, Dratch's friends really did celebrate her 50th birthday by filling the restaurant with hanging photos from their SNL days, and gifting her a birthday cake with an Abe Scheinwald quote: "Double D's, double D's" (a phrase he used to mean bigger boobs = more money).
While Dratch is wary of wading too far into "we are role models" territory, she says she hopes Wine Country will be a beacon of representation for a demographic not often shown on TV, opening the door to more films about women in their 40s and 50s simply living their lives and talking about the things they care about. Topics which, among her particular group of friends, tend to include (but are not limited to): health things and weird health symptoms, perimenopause, natural remedies courtesy of Gasteyer and Rudolph, theater and Broadway, their kids, their kids wanting their own YouTube channels, how to cut down on screen time for their kids, how to cut down on screen time for themselves, Paula's new girlfriend, and how to get Dratch to date. Also "things we'd like to do to Mitch McConnell. None of them are good," she says.
Wine Country focuses on the stress that can accompany turning 50, but Dratch says the event didn't come with any dramatic midlife crisis or existential meltdown. Long gone are the days of fretting about roles or worrying about finding a man to settle down with. "Now I just chill out and get my toes done," she laughs, as the aesthetician layers a final glossy coat atop black sparkly toenails. "But seriously, without sounding like a Hallmark card or whatever, I feel like I truly am in a gratitude place. It serves me a lot better. With my kid, I feel that. Career-wise, I definitely feel that. Now it's not like I have to do comedy every night or have a million different projects on," she reflects. "I've heard this theme come up a lot with people my age, that they're not holding on so tightly to career stuff. And then it's like: Okay, what else is there?"