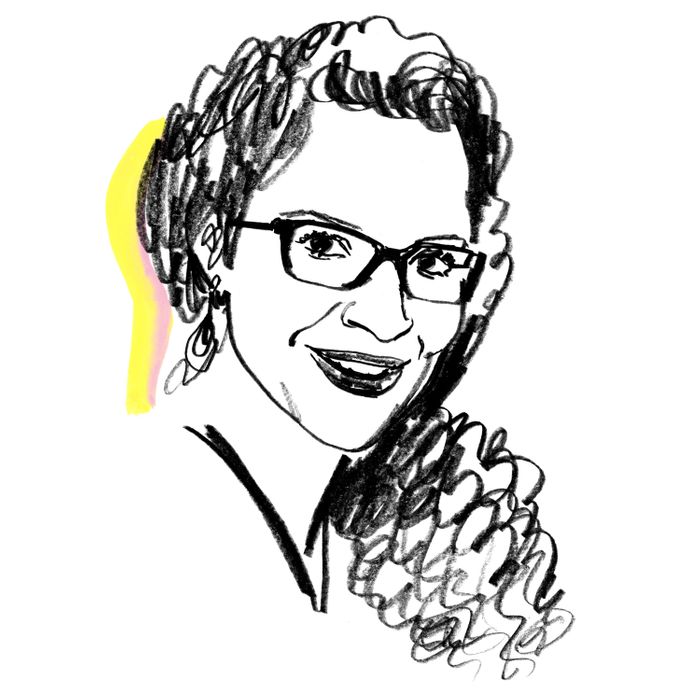 Alison Stewart.
Illustration: Lauren Tamaki
Alison Stewart started her career at the epicenter of cool in the '90s: MTV. She was a political correspondent at a time when the network was viewed as revolutionary, shaking up the status quo for a new generation. From there, she went on to report for variety of news programs at CBS, ABC, NPR, and PBS, and last September, she joined WNYC as the host of All of It With Alison Stewart, taking over the coveted noon to 2 p.m. weekday time slot after longtime WNYC host Leonard Lopate was fired. Since her show launched, she's already interviewed more than 600 people on air — and it hasn't even been on the air a full year yet. Stewart lives in downtown Manhattan with her son, Isaac, who just turned 11. Here's how she gets it done.
On a typical morning:
I get up around 5 a.m., and usually I see two very cute little button eyes of my Norfolk Terrier, Rocco, because he's ready to go for a walk. I make coffee the night before, and God bless the timed Cuisinart coffee maker, because by the time I get downstairs and put on a pair of jeans and sneakers to walk Rocco, there's coffee. My son is an early riser, too, so we often do his homework in the morning together. If he has a lot of reading, I can jump on my Peloton while he's doing that. We then get ready and are out the door at 7:50 a.m.
He used to go to the local public school a few blocks from our house, but now he goes uptown, so this is our first year commuting to school. For a while, this impending morning commute was kind of hanging over heads, and I remember asking my son, "Are you ready for this, Isaac?" And he said, "Mom, I'm a New Yorker. What are you talking about?" So now, we jump on the 1 train uptown to the Upper West Side. I walk him to school. Sometimes I get the fist bump, but most days I can still get a hug (but I don't know how long that'll last). Then I make a U-turn and take the train back downtown to work.
On after-school programs:
I traveled a lot with my past jobs, and one of the reasons I was really interested in this job is that it is great for working moms. My son has sports after school almost every day, which is great because it takes him up until 5 p.m. I can usually get to him by then to pick him up. Sometimes, the other working moms and I — especially on sports teams — will take turns. Sort of saying to each other, "I can catch him on Monday," or "I can catch him on Tuesday. I catch him on Wednesday." But if I get really in a pinch, I have a personal assistant and I'll be like, "Dude, can you go get him?"
On her interviewing techniques:
For long-form interviews, you really have to know your stuff. You can't just read the clips and the reviews; you have to read the book. You have to see the film. You have to go to the show. I'm a research nerd. I research each guest so deeply, maybe even to a fault. But it makes for a better conversation; it just flows if you're prepared. I really try to provide the listener with 40 minutes that is really worth their time. I want to make sure that I'm very clear on the flow of my interview and the content of the interview, and make sure when I write the interviews, that they have a beginning, middle, and end. I always think about that arc in the interview.
I almost always keep eye contact with my interview guest, because I feel like it helps open them up. I don't like to read questions. Also, after I read the intro, I flip it over, pick up my pen, and as the person is talking, I take notes, because sometimes they might say something interesting that you hadn't heard before or you think, I could come back to that later. But I do not like to have the producers talk in my ear. I have my laptop with me and I say, "Type to me. Just don't talk in my ear."
On starting her career at MTV:
I started working at MTV right after college. My first day was 8/8/88 — I'll always remember that. It was a magical time. I try to explain to my nieces, who are millennials, that until MTV, there really hadn't been a place where young people could convene, express themselves, and be taken seriously creatively, and in terms of their social issues. It seems almost quaint now, given the internet and the way people are able to communicate and create affinity groups. But I remember going to Brownsville, Texas, for a MTV News shoot. This girl came up to me, with a side of her head shaved, a pierced nose, and a copy of Interview magazine under her arm. She said, "You guys are my lifeline. I live in this conservative place, I'm an artist, and I can't wait to get to New York. MTV means everything to me." We would hear that a lot from people.
I know it was a really potent time because, to this day, I get stopped in airports and on the street by people who say, "Oh my gosh. I watched you on MTV News. I got into politics because of you." And I'll say, "What do you do now?" And they'll say, "Oh, I'm the chief of staff for senator so-and-so." Or, "Oh, I run an NGO." I hope this doesn't sound boastful, but these people have grown up and gone on to do very interesting and engaging things. It was also a place where you could go into a room and the most senior person could be openly gay, a woman, or someone who did not go to a fancy school. It was really ahead of its time in that way, and I think that's why the programming was organically cool. MTV was doing the diversity and inclusion thing decades ago.
On what she's learned about changing jobs:
The transition from MTV to CBS — opposite ends of the media spectrum circa 1996 — was really hard. I was the MVP at MTV, then I left for this network with people going, "Who are you? Why are you here? Oh, you're the young one?" I honestly did not deal with it that well initially, and I take responsibility for some of the difficulty. One of my smartest friends, who got her Ph.D. in public health, sent me this really interesting book called Transitions: Making Sense Of Life's Changes, by William Bridges. The book explains that when you go from place to place, there are certain things you have to change because of the culture there. You have to decide: Is making that change really, fundamentally requiring you to change who you are as a person, in a way that would have an impact on your integrity and your self-identity?
So, I had to ask myself: does wearing a blue blazer do that for me? No, I don't really have a problem with that, so I'll wear a blue suit, fine. But straightening my hair? Yes, because I'm a woman of color and this is my natural hair. That is important to me, and that's not something I'm going to change. Reading that book and talking through it with my friend was really, really helpful, as was finding a mentor who would take me aside and say, "Let's figure out a different way to go about this." I've tried to do that with women over the course of my career. If I see somebody in trouble or if I see someone's who's really talented, but for some reason they're not moving forward, sometimes I'll seek that person out and say, "Hey, let's go have coffee. Let's figure this out. What do you wanna do? Can I help you somehow?"
On working at a big network:
What I enjoy about working for networks is the resources networks have — or at least had when I was there. You couldn't believe that this many people could mobilize to get to Africa, or how an entire unit could be at a political convention and have a make-shift version of the network appear. The thing that I found tough about the networks — this happened to me a couple places — is that I was hired because I was different. But when I got there and was different, that was a problem. Sometimes it was my ideas that were different; other times it was my presentation. I went to CBS in 1996 and — I'm not naming names — I literally had a producer sort of chase me down the hall with a flatiron. He was saying, "Just try it, just try it." I finally turned around and said, "I know what a flatiron is. I'm just choosing not to use one. You know what I look like." That was eye opening.
On taking over Leonard Lopate's time slot:
I was lucky that there was a pretty significant amount of time between when Leonard left the station and when I went on the air. I considered it a real opportunity. I was a huge WNYC fan and listener. I listened at home when my son was little, and when my parents were ill. It was "my radio friend." So I knew that sometimes, especially for people who are alone or isolated, the radio becomes your companion. I always thought in my head, If I could provide that service of being somewhat of a companion, of a friend, of a confidante, of a conduit of what they'd like to do for the weekend — they may not be able to get to the Met, but boy would they like to hear about that exhibit — I would do that in this time space. I had a sense of what a listener needed in the afternoon.
On her nighttime routine:
In a perfect world, I'm home by 6 p.m. after picking Isaac up. We have some dinner, and there'll always be some discussion of sports. I never knew I could know so much about sports, but my son is sports-obsessed so I have to know what happened with Russell Westbrook, or else I can't have a conversation. There's usually a Rocco walk in there somewhere. Because we all get up so early, we all go to bed really early. My son is in bed by 7:30 p.m., and then I may have a screener to watch. I might have to watch a movie. I might have to listen to a record. I might have to finish a book. I also usually check my email before I go to bed, just to make sure that a guest hasn't fallen out or done anything amazing or crazy that I need to know about. I always try to take an hour for myself, and I'm usually asleep by 9:30 p.m.
This interview has been edited and condensed.