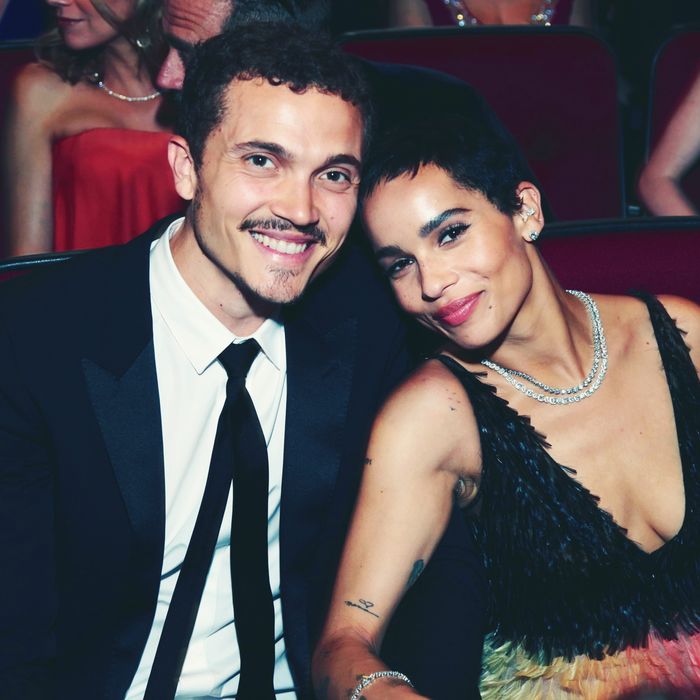 Karl Glusman and Zoë Kravitz.
Photo: Invision/AP/REX/Shutterstock
Celebrity couples sure love having secret wedding ceremonies these days, and it seems that actors Zoë Kravitz and Karl Glusman are the latest to participate in the trend.
After dating for approximately three years, Kravitz, 30, and Glusman, 31, have legally tied the knot, a source told Us Weekly. While it's unclear when, exactly, the couple would've exchanged their vows, it must've been sometime in the past year or so, as Glusman quietly proposed to Kravitz in February 2018.
As evidenced by the under-the-radar engagement and wedding, this couple prefers to keep their relationship milestones out of the public eye. It's a way of life that more and more celebrity pairs appear to find desirable: In the very end of April, Jude Law wore an unfortunate fedora to a low-key, unannounced wedding with Phillipa Coan in London, and the next day, Joe Jonas and Sophie Turner let an Elvis impersonator officiate their unexpected Las Vegas marriage.
But apparently, Kravitz's and Glusman's wedding festivities are not yet over, and they're about to get much more public. The newlyweds plan on having a bigger traditional ceremony this June in Paris, the aforementioned source told Us Weekly — an interesting location choice, given Kravitz lightly mocked the city as a trite venue for romantic gestures when she revealed her engagement in an October 2018 interview with Rolling Stone.
"I haven't told anyone yet," she said, only after the writer noticed her massive rock. "He nailed it. And I love that it wasn't this elaborate plan in Paris. It was at home, in sweatpants."
Well … at least she got her chill secret ceremony first!