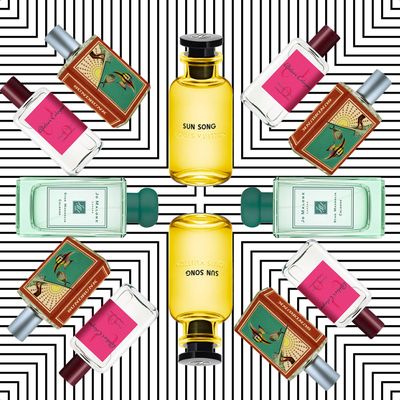 Photo: Courtesy of the Retailers
Summer comes with its fair share of nasty smells — rotting garbage, an uptick in body odor on the subway — but the season is also associated with a lot of really nice aromas. Plenty of fragrances reference the obvious ones (flowers, the beach) but our favorite interpretations of eaux de Summer smell like very specific warm-weather experiences. Here are 12 of the newest and best.
If You Want to Smell Like a Wedding in Early June
The mix of orange blossom and green mangolia leaf conjures up the perfect bridal bouquet, wrapped in creamy grosgrain ribbon, with nary a sprig of baby's breath in sight.
Waking Up in Santorini
If a jaunt to Greece isn't in the future, Aerin Aegea Blossom's breezy citrus and white floral blend is an affordable substitute, sans jet lag.
If You Want to Smell Like Clippings in the Kitchen Sink
You know when you trim the ends from flowers you just brought home? Malin + Goetz Stem is a tidier way to get there.
If You Want to Smell Like Cocktails at Sunset Tower
Atelier Cologne Pacific Lime's added eucalyptus and coconut gives it an optimistic, sunshiney vibe that feels very L.A. to me.
If You Want to Smell Like Surfing at Ditch Plains
Meant to evoke rays of sunlight reflected in the sea, Vuitton Sun Song's orange-blossom-and-citrus blend gets a nuzzly effect from the addition of musk.
If You Want to Smell Like the Old-school Clothesline at Your Boss's Country House
Designed to replicate laundry air-drying on a breezy clothesline, Byredo Toile also gives me a whiff of tumble-dry, interestingly.
If You Want to Smell Like Central Park in the Rain
Named after the architects who designed Central Park, Phlur's Olmstead & Vaux does indeed smell very much what I imagine a walk through the Park's Conservatory Gardens smelled like last night.
If You Want to Smell Like a Beach Nap at Sunset
Neroli, rhubarb, and honeysuckle contribute to Imaginary Authors' Sundrunk's beachy vibe. There's a note of worn-in cotton sweater in the picture, too.
If You Want to Smell Like Your Boyfriend's Aunt's Fancy House
A chintz-curtained powder room tucked away in a sprawling house in, say, Locust Valley comes to mind when I smell the blend of violet leaves, vetiver, and woodsy cade in Amouage's new Portrayal.
If You Want to Smell Like Hiking in New Mexico
The warm cypress and labdanum in Sigil Scent's Solutio conjure up a sauna, which, when you think about, makes for a rather clean and comforting fragrance.
If You Want to Smell Like Nantucket, at High Tide
Chantecaille's Vetyver Cedre evokes a walk along a boardwalk that leads to a weathered shingled beach house. This new scent is part of their men's category, but it's very gender-neutral in my book.
If you buy something through our links, New York may earn an affiliate commission.