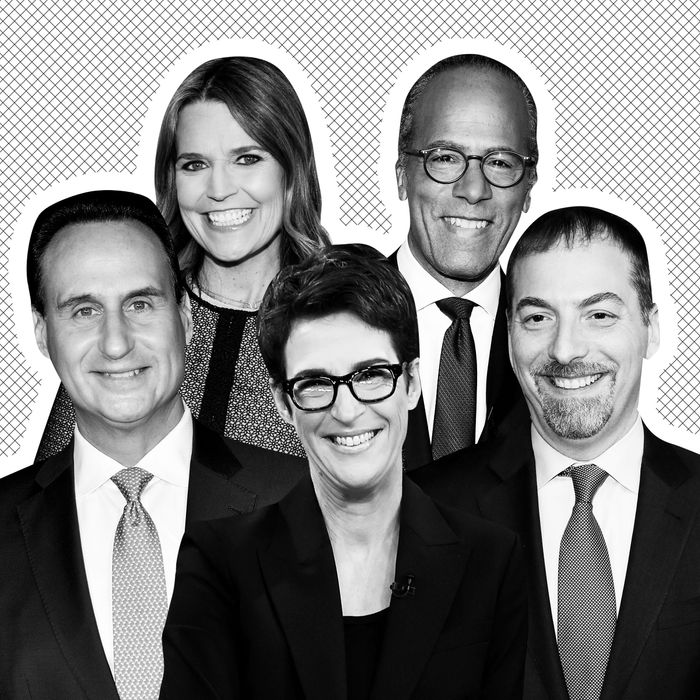 The moderators.
Photo: Getty Images
Nearly every single person in the United States (at this point, probably including your best friend's parents and everyone who has ever purchased a Spoon album) is currently seeking the Democratic nomination for the 2020 presidential election. Thus, with the primary cycle well under way (also your hair stylist and your great aunt Meg are running, too, just FYI), it's only fitting that the moderators for the first Democratic primary debate — coming up at the end of June in Miami — have been announced.
The first debate, it should be noted, will be hosted by NBC News, so it follows that NBC talent will be moderating the debate. On Tuesday, NBC announced that its lineup of moderators will include Rachel Maddow of MSNBC's The Rachel Maddow Show, Lester Holt of NBC Nightly News and Dateline NBC, José Diaz-Balart of Noticias Telemundo and NBC Nightly News Saturday, Savannah Guthrie of Today, and Chuck Todd of Meet the Press.
Some activists have been working behind the scenes to ensure that networks put forth panels for the 2020 debates and town hall that are at least 50 percent women and people of color, so the response to the moderator list has been largely positive. The charge for the movement was largely led by the women's group UltraViolet Action, which spearheaded the #AskForWomen pledge, in which candidates agreed to not participate in any debate that doesn't include a woman as one of its moderators. (After the pledge's announcement, the Democratic National Committee set a policy requiring women to be among the moderators at each debate.)
UltraViolet Action co-founder and executive director Shaunna Thomas praised the moderator decision to the Cut. "NBC's decision to ensure that four out of the five moderators for the first Democratic presidential primary debate are women or people of color is a huge win for representation at the debates and a welcome change from the status quo," Thomas said in a statement. She also stated that she hopes other networks follow suit.