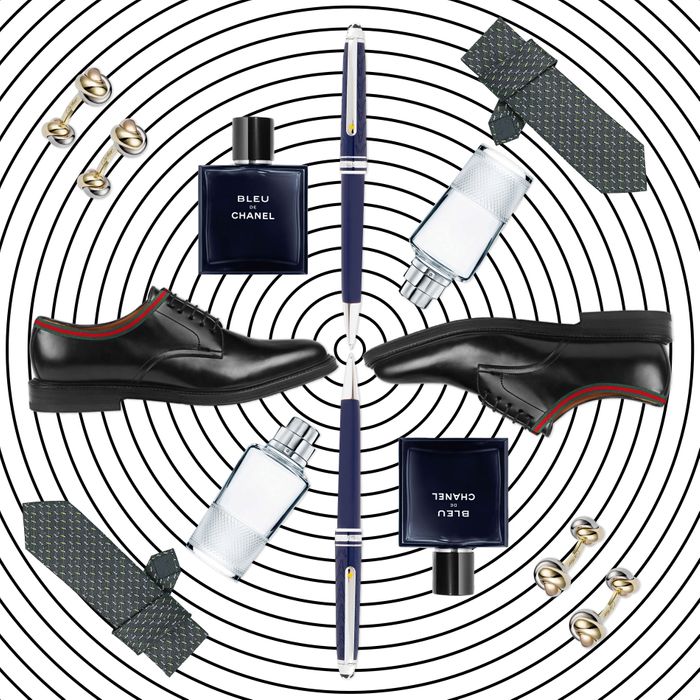 Photo: Courtesy of the Retailers
Is your father, zaddy, or male-identifying co-parent a fancy man? Does he know his Loro Pianas from his merinos, his Astons from his Jaguars, his Rolexes from his Breitlings? Or maybe he doesn't identify as a fancy man, but deep down, he loves the finer things life has to offer. And you, being the good child or partner, want to give it to him. Below, 21 luxurious gifts guaranteed to impress even the fanciest man in your life, from Hermès ties to drip-coffee sets that double as objets d'art.
For the Audophile
Photo: jeppe sørensen
If he refuses to buy Air Pods, these will do the trick.
For the Dad Who "Summers"
Whether he's in the mountains or on the beach, these slides will be the fanciest summer shoes he owns.
For the Sports Fan
Show his love of soccer in style (with a microprint of little players).
For the Fragrance Snob Dad
Switch up his cologne with Bleu de Chanel, a lighter Eau de Toilette with notes of cedar, grapefruit, and sandalwood.
For the Laid-Back Dad
Even a fancy man can't resist cool, comfortable sweaters.
Available in sizes XS–XXL.
For the Dad Who Still Writes by Hand
Maybe he's a writer, maybe he's just signing a lot of checks. Either way, he'll appreciate a Montblanc pen.
The Fool-Proof Fancy Gift
A Louis Vuitton wallet with a subtle LV logo never goes out of style.
For the Practical Dad
Fancy people can be practical, too! A reversible, black and brown belt from Ferragamo combines the two.
For the Dad Who Makes a Killer Martini
There's plenty of evidence that the most stylish men like drinks shaken not stirred. Kick it up a notch with a crystal and silver shaker.
For the Dad Who's Into Sneakers
To combat the "Dad Sneaker" stereotype, give him a futuristic pair from Tod's.
If He's Very Into Watches
The Omega Speedmaster Moonphase in platinum-gold with a crocodile band has everything you'd want in a watch, including diamonds in the face.
For the Conservative Dresser
He may not want a full Gucci-logo suit, but the signature green-and-red stripe is a way to add some flair to dress shoes.
For the Host With the Most
A tiny wireless speaker to end all wireless speakers — plus it's pretty.
For the Ergonomic Dad
Don't sacrifice design for comfort! A Prada nylon backpack is honestly cooler than most briefcases.
For the Frequent Flyer
Everybody who has a Rimowa loves their Rimowa. The silver is classic.
For the Coffee Snob
This coffee set is all about precision. Armed with a thermometer, a crystal dripper, and wooden stands, it will be the best part of your morning.
For the Outdoorsman
A Moncler coat can brave the elements and the test of time. Plus the bright color will make him stand out on the ski slopes.
Available in sizes 3–5.
For the Cozy Dad
Cozy, cuddly, and a mix of cashmere, wool, and silk. Take that, fleece.
Available in sizes IT 46–IT 52.
If He's Always in a Suit
A silk jacket with a barely-there pattern is irresistible to anyone who wears blazers day in and day out.
Available in sizes 34–50.
If He's Always in a Tux
Then cuff links will be his accessory of choice. Get him a timeless pair from Cartier.
If He Appreciates Craftmanship
This Breitling is part of an airline capsule collection with Trans World Airlines. Also perfect for anyone who has fancied becoming a pilot.
If you buy something through our links, New York may earn an affiliate commission.