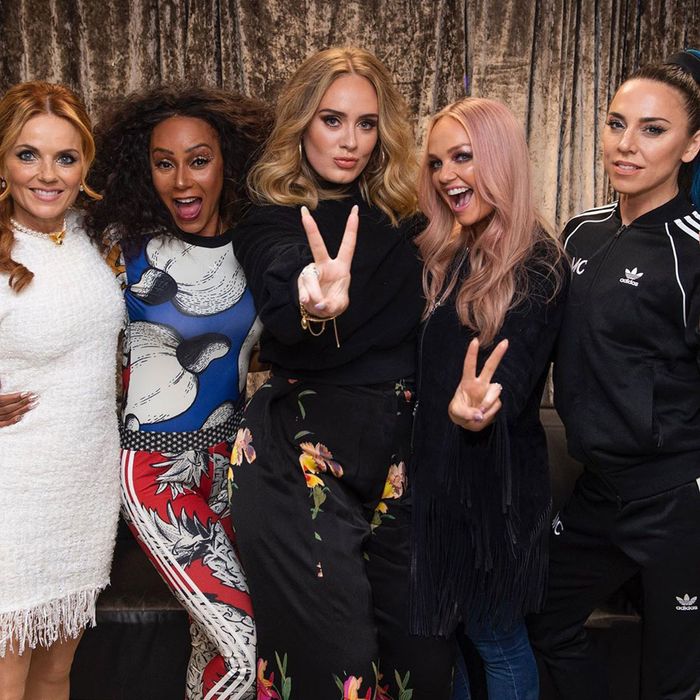 Adele and the Spice Girls.
Photo: @spicegirls/Instagram
Think of the most fun you've ever had in your life, a moment when it felt like your heart was about to burst out of your chest in an explosion of glitter and candy and laughter, a moment that felt, at once, infinite and infinitesimal. Think of this moment, see it in your mind's eye, feel it in your bones, and then come to terms with the fact that no matter how special it was, it simply does not compare to how much fun Adele had at the Spice Girls concert at London's Wembley Stadium on Saturday night. Sorry!
"Oiii last time I saw the Spice Girls at Wembley was 21 years ago! Tonight with my nearest and dearest i cried, laughed, screamed, danced, reminisced and fell back in love with my 10 year old self," the "Someone Like You" singer wrote in an Instagram post on Sunday. The post included videos of her belting "Stop" in the car on the way to the concert, her and friends jumping and shout-singing "Spice Up Your Life" backstage, and a clip of her watching the Spice Girls sing onstage with their children, and shouting, "They're all mums now!"
After the show, Adele got to meet four of the five Spice Girls (Victoria Beckham, a.k.a. Posh Spice, was not a part of the reunion tour, but wished them the best) and got drunk with all of them.
If you are, somehow, still doubting whether Adele had more fun than any person ever, here is a collection of videos from her friend and fellow concert-goer Jedidiah Jenkins's Instagram Stories, in which she is clearly ascending into another realm.
If only Jennifer Lawrence had been there to tackle her.