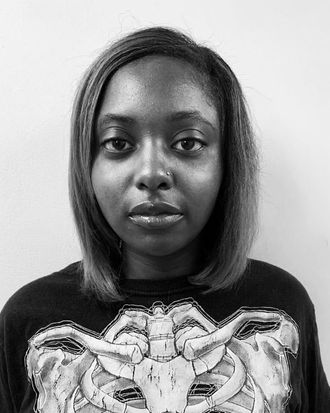 Photo: Pleasant Grove Police Department
On Wednesday, 27-year-old Birmingham, Alabama resident Marshae Jones was indicted by a Jefferson County grand jury for manslaughter, AL.com reported. Her alleged crime? In 2018, Jones, who was five months pregnant at the time, was shot in the stomach, resulting in a miscarriage. Jones will reportedly be transferred to the Jefferson County Jail and held on a $50,000 bond.
Police say the shooting occurred in December during a dispute between Jones and another woman, 23-year-old Ebony Jemison, over the man who impregnated Jones. At the time of the shooting, police alleged that Jones started the argument and that Jemison shot her in self-defense. Shockingly, Pleasant Grove police Lt. Danny Reid said at the time, "The investigation showed that the only true victim in this was the unborn baby. It was the mother of the child who initiated and continued the fight which resulted in the death of her own unborn baby."
Reid reiterated his contempt for Jones and total disregard of the emotional and physical pain she suffered in the ordeal, saying, "Let's not lose sight that the unborn baby is the victim here. She had no choice in being brought unnecessarily into a fight where she was relying on her mother for protection."
The ultimate goal of the anti-abortion movement is to define fetuses as humans with full constitutional rights — a concept known as "fetal personhood." Already, 29 states have "feticide" laws on the books, which make it equivalent to murder to end a pregnancy at any point (outside of legal abortion). And overzealous prosecutors in states like Alabama and Indiana are acting on this, investigating women who've suffered miscarriages for "murder" or "manslaughter" on the suspicion as they intentionally harmed the fetus. As the New York Times points out, this allows for a dystopian reality in which any pregnancy loss is a potential crime, in which "a pregnant woman would cease to exist as an autonomous person. Her womb would become a legal battleground."
Under the logic of fetal personhood, women have been prosecuted for miscarrying after car accidents and suicide attempts, and even for taking Valium while pregnant and going on to deliver a perfectly healthy baby. Women of color are disproportionately the subjects of this state scrutiny; what happened to Jones is sadly not an anomaly. As Amanda Reyes, executive director of the Yellowhammer Fund, an abortion fund in Alabama, put it: "Today, Marshae Jones is being charged with manslaughter for being pregnant and getting shot while engaging in an altercation with a person who had a gun. Tomorrow, it will be another black woman, maybe for having a drink while pregnant. And after that, another, for not obtaining adequate prenatal care."
AL.com reports that police initially charged Jemison with manslaughter, but that charge has since been dismissed.