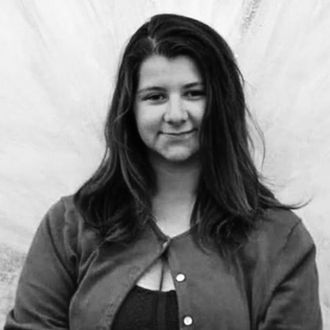 Cynthia Hoffman.
Photo: Courtesy of Cynthia Hoffman Family
In early June, Alaskan authorities discovered the body of 19-year-old Cynthia Hoffman on the banks of a river. In the weeks since, more and more disturbing information has emerged about the murder. According to police, Hoffman's best friend, Denali Brehmer, lured Hoffman to her death — with the help of others — after a 21-year-old Indiana man posing as a billionaire offered Brehmer $9 million to commit and record footage of the crime. Today, Brehmer and five other defendants are facing murder charges for their alleged involvement in Hoffman's horrific death.
Here's everything we know so far.
What happened to Cynthia Hoffman?
On June 2, Hoffman — who suffered from a developmental disability, her family says — believed she was going on a hike on the outskirts of Anchorage with Brehmer, according to a bail memorandum obtained by HuffPost. That was not the case. Per authorities, Hoffman was bound with duct tape and shot in the back of the head at Thunderbird Falls. One day later, Hoffman was reported missing. The next day, her body was discovered on the banks of the Eklutna River.
According to authorities, there were four other people on the scene at the time of Hoffman's death: 16-year-old Kayden McIntosh, 19-year-old Caleb Leyland, and two other individuals whose names have been concealed because of their ages. According to prosecutors, McIntosh admitted to being the one who shot Hoffman, the New York Times reports.
Why would Brehmer lure her best friend to her death?
This is where Darin Schilmiller comes in. Per authorities, Brehmer had a romantic online relationship with Schilmiller, a 21-year-old native of New Salisbury, Indiana, who told Brehmer he was a millionaire named Tyler. Weeks after they started talking online, Schilmiller offered Brehmer at least $9 million to kill someone and document it, and police say the group picked Hoffman. Schilmiller also allegedly told Brehmer to sexually assault two minors and record videos of the crime. While authorities have not found evidence that would suggest Hoffman was sexually assaulted, according to court documents, Brehmer sent Schilmiller Snapchat photos and videos of Hoffman both before and after she was killed. (Per federal authorities, Brehmer also produced and sent sexually explicit videos involving a minor to Schilmiller, ABC reports.)
As prosecutors noted in the bail memorandum, what transpired between Schilmiller and Brehmer was a classic example of catfishing, the "practice of assuming a fake identity to engage in online relationships."
"He does not look like the young man he portrayed himself to look like, he is not a millionaire, and he lives in Indiana," the memorandum reads. And, per authorities, Brehmer didn't learn that Schilmiller had duped her until after she was arrested. (The four other suspects are believed to have participated because they were told they would receive a cut of the payment.)
"Once Brehmer realized she had been catfished by Schilmiller, she ultimately admitted to being solicited by Schilmiller to commit the murder and that the murder was planned," prosecutors said.
What charges do the suspects face?
According to a press release from the Alaska Department of Law, all six defendants have been charged with first-degree murder, first-degree conspiracy to commit murder, and two counts of second-degree murder. Additionally, Schilmiller and Brehmer were indicted on first-degree solicitation to commit murder, and are facing charges of child pornography.
Following the arrests, the victims have at least partially confessed to the allegations against them. Per the Times, when Schilmiller was questioned by federal agents and the Indiana State Police, he admitted to catfishing Brehmer, as well as telling her to murder Hoffman. In a June 8 court appearance, Brehmer confessed to her crimes, and appeared to express regret.
"I know what I did was wrong," she told the courtroom, "and I know I probably could have done something different if I was able to."
How has Hoffman's family responded?
In a court appearance on June 10, Hoffman's father, Timothy, spoke of how his daughter's disability made her especially vulnerable, and that all she wanted was to have friends.
"The only thing I know is that my daughter trusted these people," he said. "My daughter just wanted friends, and now I have to bury her, and that is wrong."