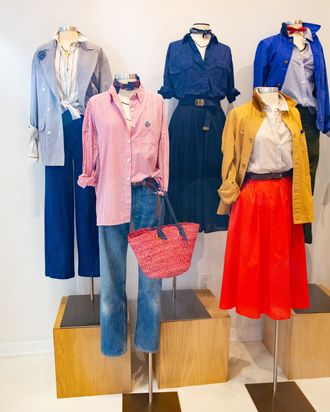 Photo: @yvonnetnt/Courtesy of Alex Mill
If you find yourself wandering through Soho on a beautiful summer day (or a rainy one, based on how things have been going so far), consider popping into Alex Mill's pop-up store at 63 Greene Street. The brand is run by Madewell masterminds Somsack Sikhounmuong, Mickey Drexler, and Drexler's son, Alex Mill. They launched womenswear line earlier this year, and after a positive reception for their effortless, classic-Americana pieces, decided to open a summer pop-up.
"We were getting a lot of customers calling in and asking about fit and quality. The best way to realize that is in a store," Sikhounmuong said. "Once a week we'll get a knock on our office door and it's someone asking, Hey, is this a store? And no, but we say, come on in."
The store will be open for six months, showcasing the summer and fall collections. Alex Mill's womenswear collection is filled with suiting, colorful rompers and jumpsuits, and thoughtful details like small embroidered hearts hidden in the shirts. But the store also serves as curator. You can shop vintage pieces from Front General Store, vegan shoes from Marais, and cult-favorite sneakers Bata Heritage. If that's not enough, the store will also be hosting events throughout the summer, including a movie night and a rosette-making workshop (an Alex Mill signature).