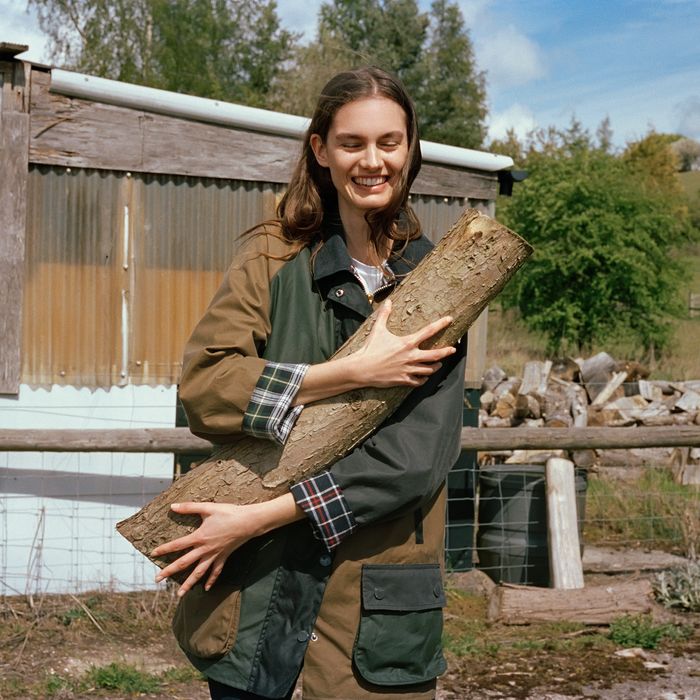 Photo: Courtesy of Barbour
If you've owned one or spent any time in England, you can probably imagine what a Barbour jacket looks, feels, and smells like. The utilitarian, dark-green color, the oversize shape, the tartan lining make up a distinct jacket that makes you think of either rainy days or early fall. But for all its classic appeal, it's being shaken up by model/writer-turned-designer Alexa Chung, who has made six new jackets for the heritage brand.
"I was let loose into a room filled with every single Barbour piece through history — I was like a kid in a candy store rifling through all of these incredible pieces with such rich stories behind them," Chung told the Cut. She had been wearing Barbour for "as long as I can remember," as a kid in Britain. From the starting point of personal nostalgia and the brand's history, Chung began to create her capsule. The patchwork jacket is particularly inspired. The mismatched plaid lining and hodgepodge of neutrals was based on, "a jacket that had been pieced together over decades by a man who refused to give it up."
It's certainly more outdoorsy than Chung's label, but they have a wide appeal. "We designed pieces which are undoubtedly made for the great outdoors, there's definitely some festival moments in there too but also outerwear which wouldn't look out of place for a day of Saturday shopping in Notting Hill," Chung said. The first drop in the collection is available at Nordstrom, Bloomingdales, and ALEXACHUNG. A second drop of four more pieces will come out in August.
If you buy something through our links, New York may earn an affiliate commission.