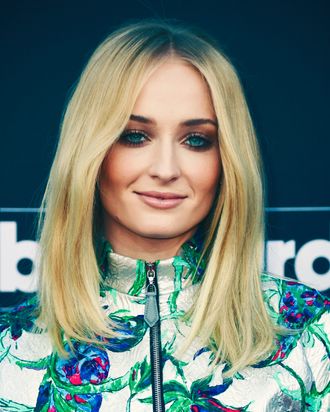 Sophie Turner.
Photo: Frazer Harrison/Getty Images
If you dare try to get between Sophie Turner and her Juul, just know there might be tears. (Really.)
On a recent episode of Jimmy Kimmel Live, Turner and the majority of the Dark Phoenix cast appeared to discuss the upcoming X-Men finale. During the interview, Jennifer Lawrence, in classic form, divulged a spoiler involving Turner's character. "I teared up a little bit watching Sophie," Lawrence said of the scene, calling her co-star's acting "so honest and real."
And what, exactly, made Turner's performance moving? Lawrence continued: "It's because she really was crying because her dialect coach, right before the take, took her Juul away. She started genuinely tearing up. It was, like, the performance of the year."
Turner clearly has no issue with crying — hell, she'll publicly weep in the middle of Manhattan. But it is true that her love for her vape pen, which has become a permanent fixture in her hand, runs very deep. She is, inarguably, the embodiment of Vape Life.
She'll juul on the set of Game of Thrones.
With friends and family.
Even while at a Rangers' game!
Clearly, Turner is very open about her vape lifestyle. In response to Lawrence's generous compliment on Jimmy Kimmel Live, Turner acknowledged her vape's (slightly concerning) power over her, saying, "You take it away, and then you give it back, and that's happy and sad."
I just need to know: Did she walk down the wedding aisle with it?