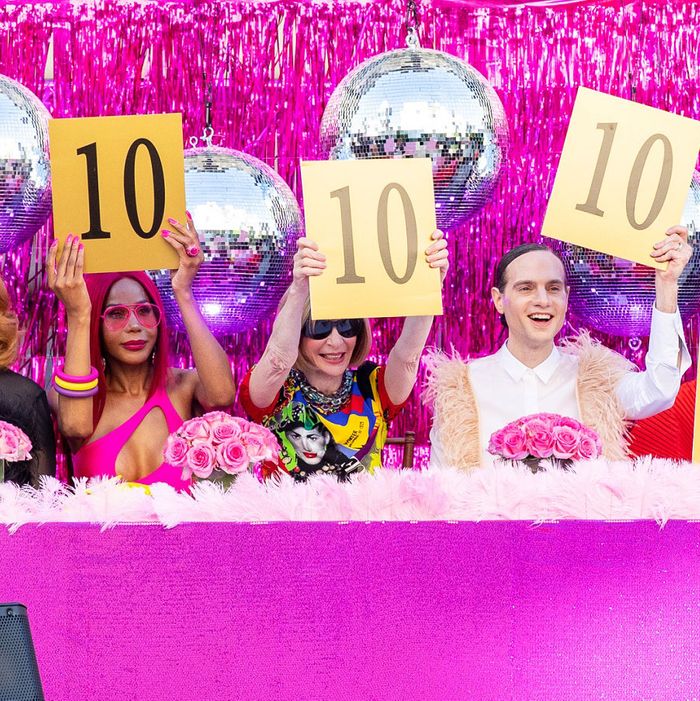 Photo: Benjamin Lozovsky/BFA.com/Courtesy the Metropolitan Museum of Art
Anna Wintour, indefinite editor-in-chief of Vogue magazine, spends all day doling out honest feedback, so much that she's developed her own secret code of approval: The A.W.O.K., or "Anna Wintour okay."
On Tuesday, the bobbed dictator of taste brought her discerning eye to the Metropolitan Museum of Art, where she sat on a panel of judges for "Battle of the Legends," a voguing competition hosted as part of the Met's Pride month festivities and in celebration of the new Costume Institute exhibit, Camp: Notes on Fashion.
The history-making battle took place on the museum's front steps, where many a New Yorker has strutted before. Wintour, who wore Versace, was in fabulous company: Jack Mizrahi, ballroom-scene notable and co-founder of House of Mizrahi, chose the participants. Wintour's fellow judges included the Iconic Queen Mother Sinia Alaia; Twiggy Garçon, executive producer of Kiki; Our Lady J, executive producer and writer for Pose; the Legendary Mother Lola Mizrahi; Jordan Roth, president of Jujamcyn Theaters; and Jose Xtravaganza, Father of the House of Xtravaganza.
The six competitors — Asia Balenciaga, Bootz Prodigy, Omari Mizrahi, Malik Mugler, Tamiyah Mugler, and Ty Ebony — performed for the chance to be dubbed both the crowd favorite and the grand-prize winner, also known as the "Legend Slayer."
Wintour, who was all smiles, clearly had a ball, and was uncharacteristically generous with her feedback, giving out at least one perfect 10 score. She also had the honor of presenting Legend Slayer Malik Mugler with a giant check. The amount of prize money has not been disclosed. But a glowing A.W.O.K.? That's priceless.